Taiyuan's task to be modern metro area
Updated: 2013-12-13 06:59
By Li Fusheng (China Daily)
| | | | | | | | | | | |
| --- | --- | --- | --- | --- | --- | --- | --- | --- | --- | --- |
|   | | Comments() | | Print | | Mail | | Large Medium  Small | 分享按钮 | 0 |
Shanxi capital makes housing, road and rail improvements
Taiyuan is coming nearer to its goal to become a first-class provincial capital as a wave of projects bring sweeping changes to the city in North China's Shanxi province.
A highlight is work on a 45-kilometer intermediate ring road begun in March that will be open to traffic this year. It will help ease traffic congestion in the 2,500-year-old city as the population continues to surge, said a local official.
The local census showed the number of permanent residents in downtown Taiyuan reached nearly 4.3 million by the end of 2012.
That means the traffic system is overstretched even if one person makes one trip a day, said the official.
Making it worse are the 10,000 new motor vehicles each month that join those already stuck on the crowded roads, he said, adding that is why workers are busy day and night building the ring road and renovating others.
Local residents said they have already noticed the difference now that trunk roads Fudong and Fuxi have been widened.
"Roads are getting wider and traffic is getting smoother," said a veteran taxi driver surnamed Hao. "Driving has become something pleasant for me."
Hao and other residents are pleased that projects took less than six months to complete.
"They were so fast building the road this time. A bumpy section in the morning might have already been paved in the evening," said a local resident who wanted to remain anonymous.
While some worry that the speed came at the cost of quality, Taiyuan mayor Geng Yanbo said all projects are built to meet strict requirements. He said underground pipes for water, gas and sewage will not need replacement for at least 50 years.
In addition to the road network, rail transport has already seen landmark progress.
On Nov 2, the first line in Taiyuan's metro system went into service after four years of construction.
Running through the city from north to south, Line 2, with a designed speed of 60 km an hour, is changing people's lives, especially those who live near metro stations.
Yan Fuman, a 63-year-old retiree, said the line has helped bring more vitality into his life.
Living in northern Taiyuan, Yan said what he enjoys most each week is taking his granddaughter to have snacks at Jiefang Road in the south of the city.
He said they used to change buses three times to get there, but by metro they arrive in just 10 minutes, "even much faster than taking a taxi".
The city government is planning to build another six metro lines to bring the total length of the network to more than 230 km.
The line now in operation not only provides convenience to residents, but is also fueling the city's southward development.
With mountains to the east, west and north, Taiyuan lies in a narrow 15 km wide valley.
Its potential lies in the south, said a city planner.
As the metro went into use, a 300 sq km new zone in the south is accelerating its pace to become a worthy competitor to downtown Taiyuan.
Divided by the Fenhe River that runs through Taiyuan, the zone has the Fendong New Area with business districts, factories and plants, and the Jinyang New Area with scenic spots Jinyang Lake, Ancient Jinyang City and the Jinci Temple.
Shopping malls in the zone's Changfeng business district are already attracting shoppers from downtown, while hospitals and schools are helping sharpen the zone's competitive edge by opening new branches.
As the city moves south, residents of once-remote towns are becoming the most direct beneficiaries.
Among them is Zhang Xiao, a young man born and living in Xiaodian.
Zhang said residents on the urban fringe before traveled a long way to work downtown and envied the easy access urbanites have to shopping and entertainment venues.
As Xiaodian grows into a new commercial center with job opportunities, large supermarkets and malls, locals are spared the headache of commuting, said Zhang.
He noted some are getting rich and sending their children to school abroad. He returned from Australia last year.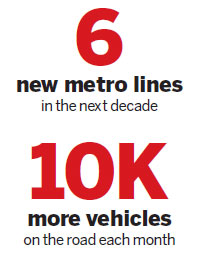 In addition to Xiaodian, Zhang's less affluent peers in other parts of Taiyuan also have rising hope as the city government launches a program to rebuild shantytowns and dilapidated urban villages, which together have some 270,000 households.
"I have long hoped for relocation," said a 72-year-old man surnamed Lyu. His family of four lives in a one-room, 20-square-meter cottage. He said it has a poor heating system and his family has to use outdoor public toilets even in cold winters.
"Now there is hope. The government will build high-rise buildings for us," said Lyu, who added that thought alone gives him a feeling of warmth.
According to the city government plan, residents like Lyu will have free apartments that are 15 sq m larger than their current homes. If they like, they can purchase an additional floor space at a price much lower than the market rate.
"That means I can have a 70 sq m apartment by paying for 35 sq m," Lyu said.
In addition to better housing, the government is taking into consideration the need for beauty and art in people's lives.
A 20 km scenic belt has been built along the Fenhe River, while trees and bushes have been planted along roads and even disused factories have taken on new roles.
After Taiyuan Chemical Industry Group moved from near Jinyang Lake, the city government invited artists from Beijing and Tianjin to turn its former plant into an art zone.
"Beijing has 798, Shanghai has M50, and now Taiyuan has its own art zone," said a resident who was wandering around the factory-turned-art hall.
lifusheng@chinadaily.com.cn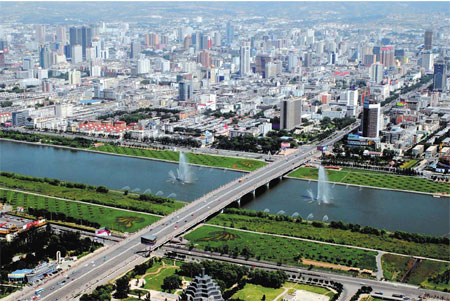 After years of industrial restructuring and city rennovation, Taiyuan has taken on a new look. Provided to China Daily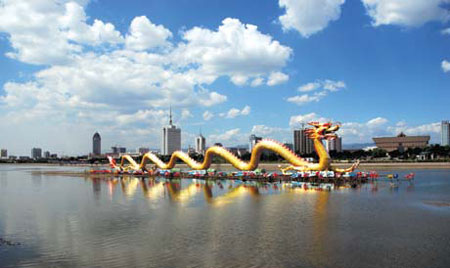 The golden dragon on the Fenhe River is a landmark of the Fenhe Park, attracting tourists and local residents everyday. Qiu Beilong / for China Daily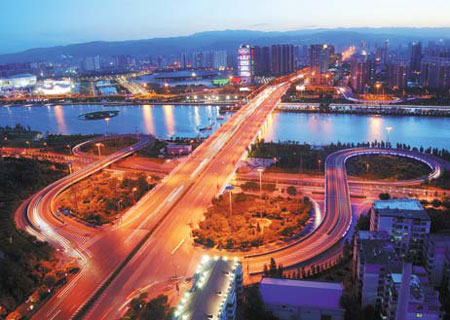 As the new ring road approaches completion, other improvements include renovated Changfeng Street. Qi Ting / for China Daily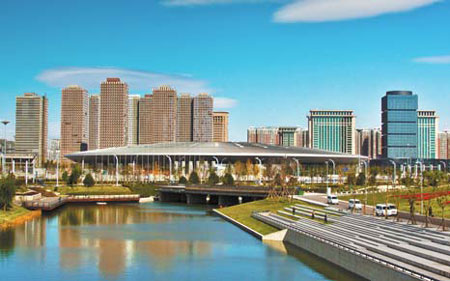 With coal dominating Shanxi's economy, Taiyuan's trading center for the energy resource is the biggest in China. Ma Qinghai / for China Daily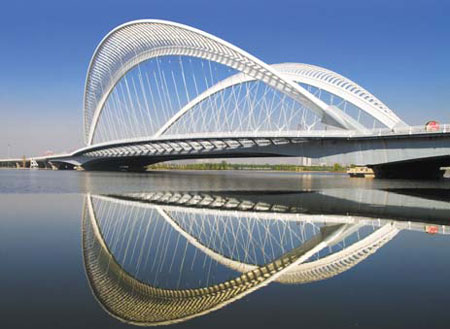 South Central Ring Bridge over the Fenhe River is a crucial link between the east and west of the city. Deng Jixin/ for China Daily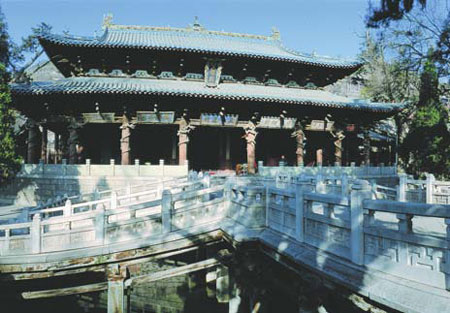 In addition to improved infrastructure, Taiyuan has a range of tourism spots including the ancient Jinci Temple. Provided to China Daily

Taiyuan also gives a boost to creative industries by building Changfeng Cultural Island on the banks of the Fenhe River. Provided to China Daily
(China Daily 12/13/2013 page7)