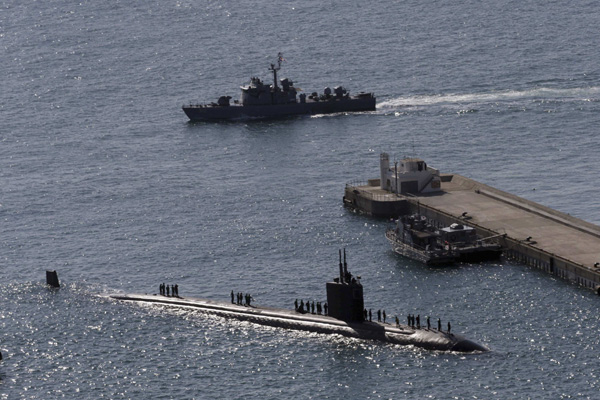 The Los Angeles-class nuclear powered attack submarine USS Columbus (SSN 762) (C) sails into a naval port in Busan south of Seoul, March 3, 2014. [Photo/Agencies]
SEOUL - A nuclear-powered US submarine arrived in the South Korean southern port city of Busan Monday morning to touch at the port on its voyage to the West Pacific, an official at the US Forces Korea (USFK) said.
The USS Columbus, a Los Angeles-class submarine, arrived in Busan, around 450 km southeast of Seoul, Monday morning, the official said on the condition of anonymity.
Asked why the submarine came here, the official said by phone that it has been in regular deployment now in the West Pacific, noting that it called at the port to let US crew members take a rest and the submarine obtain supplies.
He denied local media reports that the nuclear-capable submarine, a unit of the US Seventh Fleet, arrived in the port to join the South Korea-US annual military exercises along with the USS Blue Ridge, the command ship of the Seventh Fleet.
According to a South Korean military official cited by multiple local media, the submarine and the command ship came here to join the "Foal Eagle" field training exercise that began on Feb 24.
The 7,000-ton submarine, commissioned in 1993, was loaded with Tomahawk cruise missiles with a range of some 3,100 km and Harpoon anti-submarine missiles. The submersible visited the South Korean southern port city of Jinhae in March 2012 to participate in the Foal Eagle military exercise.
South Korea and the US began their two annual spring war games, including the "Key Resolve" command post exercise as well as the "Foal Eagle," on Feb. 24 despite the Democratic People's Republic of Korea (DPRK)'s call for the delay or cancellation of the drills.
The Foal Eagle exercise, which involves 7,500 US soldiers with some 5,100 of them from overseas bases, will last until April 18.