KUNMING - Order has been restored in Kunming, capital of Southwest China's Yunnan province, where a deadly terrorist attack on Saturday night left 29 dead and more than 130 injured.
At the train station where the attacked happened, train arrivals resumed on Sunday after three trains with 3,000 passengers were affected on Saturday night, said station officials.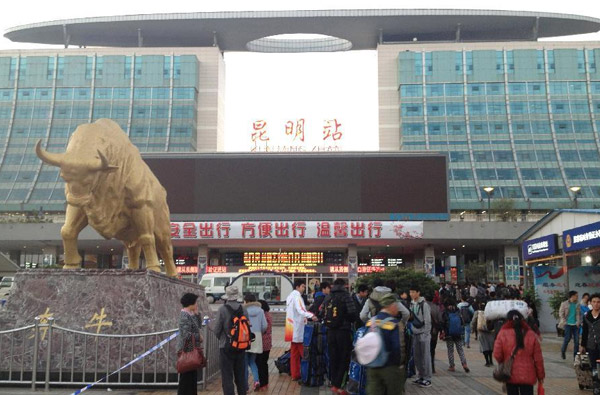 Photo taken with a cell phone on March 2, 2014 shows people on the square of the Kunming Railway Station in Kunming, capital of southwest China's Yunnan Province.[Photo/Xinhua] 
Meanwhile, 60,000 passengers are expected to leave the station on Sunday, higher than the 59,000 on Saturday.
Part of a major road in front of the railway station is still under traffic control and a waiting area on a square east of the station is cordoned off.
With a heavy police presence, normal operations have resumed and passengers can walk into and out of the station with no new restrictions.
Security screening of passengers and luggage is being carried out and staff are maintaining order in more crowded areas.
In a ticket hall, people were seen queuing to buy train tickets. Some chatted with each other while others were playing cards.
Security has been beefed up at the city's Changshui International Airport, with increased security personnel and tougher scrutiny of passengers and luggage.
The municipal government said on Sunday that evidence at the crime scene showed that the Kunming Railway Station terrorist attack was orchestrated by Xinjiang separatist forces. No details have been given.
The foreign affairs office of the Yunnan provincial government said there were no reports that foreigners were killed or injured in the attack as of 2:30 p.m. Sunday. Neither are Hong Kong, Taiwan and Macao compatriots among the victims,
Chinese President Xi Jinping has ordered law enforcement agencies to strike out with full forces and bring those accountable to justice as as soon as possible.
Xi urged the greatest efforts to treat the injured and help those who have lost their loved ones.
Chinese Premier Li Keqiang has ordered police forces nationwide to beef up security, particulary at public places of big crowds.
Senior Chinese security official Meng Jianzhu arrived in Kunming at 5:30 a.m. to oversee the situation.
Separately, the city's education authorities said all local middle and primary schools will open as normal on Monday but with enhanced security.
School officials will be on duty before and after class and police officers will be patrolling school campuses and surrounding areas.
Kunming's citizens have been eager to help. More than 2,000 Kunming citizens have donated 560,000 milliliters of blood as of Sunday, the city's blood center said.
As of 9:00 p.m., people were still lining up at a blood donation shuttle parked around commercial district in downtown.
A total of 27 medical experts have been dispatched to Kunming to help the treatment of victims, the National Health and Family Planning Commission said Sunday.
The experts were recruited from 12 hospitals in Beijing, Shanghai, Chengdu, Guangzhou and other cities.