APP-China, a leading papermaking company in China, organized Corporate Day on Sept 25 at the China Pavilion during the ongoing Expo Milano 2015.
Under the theme of "Civilization Inheritance, Green China", the activity was designed to promote the nation's paper culture and the company's confidence in building a "beautiful and harmonious China" through environmentally friendly operations, the company said.
Yang Hong, deputy director of the China Pavilion, and Budiman Muhammad, head of the Indonesia Pavilion, as well as representatives from companies and members of the expo's organizing committee attended the event.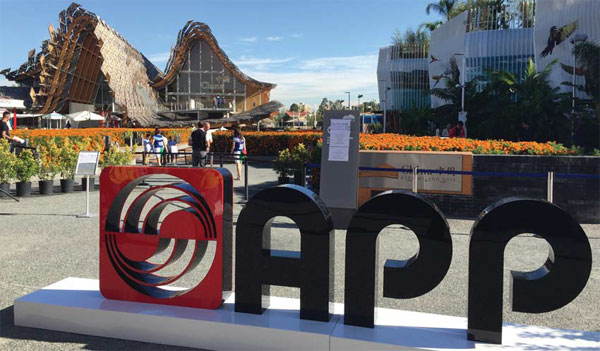 An APP logo is placed near China Pavilion at Expo Milano 2015. APP-China is one of the global partners of the pavilion and its exclusive provider of paper products. Photos provided to China Daily
During Corporate Day, employees of APP-China displayed Chinese traditional folk arts such as papercutting and stone rubbing to visitors. The company also gave the expo's organization committee four Chinese water and ink paintings that depict the four seasons in Suzhou, Jiangsu province.
"The theme of this year's expo is 'Feeding the Planet, Energy for Life'. It highlights the harmony between human and nature, and also expresses a concern for economic, social and human sustainable development, which is the largest challenge faced by China's papermaking industry," said Zhai Jingli, deputy CEO of APP-China.
"As China has increased its efforts to adjust its energy structure, the first thing we want to explore is how low-carbon and green development can adapt to the country's new normal of slower yet higher-quality economic growth."
Over the past two decades, APP-China has pursued a balance between natural ecology and economic development, she added.
The company considers the "plantation-pulp-paper integration" a core business concept to realize its sustainable operations. It has 300,000 hectares of plantations in China that can capture 8 million metric tons of carbon dioxide and store 2.17 million tons of carbon each year.
It also manages its plantations in sustainable ways and has received forest certifications for years. By the end of last year, APP-China had 240,000 hectares of certified plantations, which accounted for 80 percent of its plantations.
In July, the company was selected as a national role model for its emissions reductions at the China Summit on Caring for the Climate held in Beijing. Zhai called the honor "one of the best recognitions of our efforts to implement sustainable development strategies and explore green approaches to business".

Through this year's expo, APP-China wanted to show the world China's centuries-old papermaking culture and its achievements in promoting environmentally conscious operations models.
As one of the global partners of the China Pavilion, APP-China made customized products for the pavilion, including brochures, notebooks, envelopes, paper towels and writing paper, which all received certification from the China Forest Certification Council and the Program for the Endorsement of Forest Certification Schemes.
haonan@chinadaily.com.cn
(China Daily European Weekly 10/01/2015 page9)