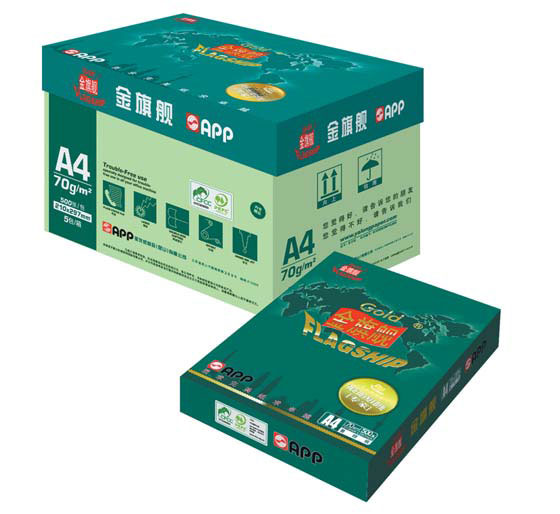 Gold Flagship's copy paper recently received certification from the CFCC and PEFC. Provided to China Daily
APP-China, a leading papermaking company in the country, considers customer satisfaction integral to its business.
Since its establishment in the early 1990s, APP-China has been committed to the research and development of many types of high-quality paper products to meet customers' demands for printing, packaging, work and hygiene requirements. 
Office paper made by Jinguang Chuangli Paper Co, a subsidiary of APP-China in Shanghai, for example, has won recognition in the market due to its stable quality and innovative designs.
The company's copy paper range is one of the best sellers in the industry, thanks to its advanced manufacturing technologies and high-standard production requirements.
Its Gold Flagship, Canary and Golden Bird copy paper brands, which are star products of the company, are very smooth and tightly textured and also come with high fidelity color effects and a low rate of paper jams.
These properties can effectively reduce ink consumption and help protect equipment.
The Canary brand of multipurpose office paper is one of the first choices for Chinese governments and institutions to purchase, according to the company. The office paper does not easily shrivel or curl and has a soft visual effect. It can be used for copying, printing and faxing and is also suitable for double-sided use to lower costs.
Jinguang Chuangli also produces notebooks, some of which have been exported to the United States, Japan and Europe.
Maslino and Blue Snail are the company's most famous notebook brands, and their product designs keep up with fashion trends to meet the aesthetic needs of customers of different ages and job positions.
Designs of the latest notebooks from the two brands launched in June include vintage floral patterns the company is targeting at young women, coffee designs for white-collar workers and cartoon images for students.
Gold Flagship's copy paper range recently received joint certification from the China Forest Certification Council and the Program for the Endorsement of Forest Certification Schemes, marking APP-China's long-term commitment to practicing sustainable development and clean operation in China.
The two certification labels prove to the company's customers that the raw materials of its products come from forests under sustainable management and also that APP-China is environmentally responsible in every link of the production.
"Customers today are paying more attention to the product's performance in environmental protection," said Zhai Jingli, deputy CEO of APP-China.
"It can further promote green consumption in the market and also will encourage more papermaking companies to participate in CFCC and PEFC certification and to realize a rational utilization of forest resources."
haonan@chinadaily.com.cn