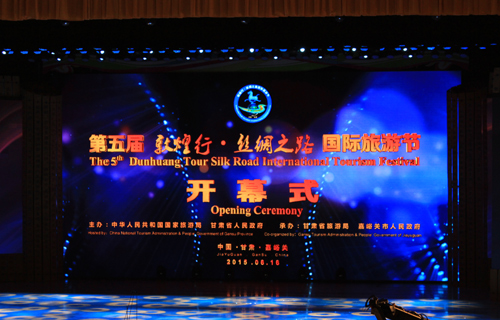 The opening ceremony of the 5th Dunhuang Tour-Silk Road Tourism International Festival, held in Jiayuguan, Gansu province, on June 16. [Photo/ chinadaily.com.cn]
An alliance was jointly formed by the tourism administrations of several Chinese provinces and regions to promote tourism along the Silk Road. It was formed at an opening ceremony held in Gansu on June 16 and includes the provinces of Shaanxi, Gansu, Shandong and Yunnan.
The opening ceremony was part of the 5th Dunhuang Tour — Silk Road Tourism International Festival and took place in the city of Jiayuguan, Gansu. Attendees came from 20 countries and cities, including France, Italy and Canada.
The tourism festival featured the Silk Road tour and travel in Gansu. It was jointly held by National Tourism Administration and Gansu Provincial Government, who aimed to promote the Silk Road as a tourism brand, advance the tourism industries of Northwest China and upgrade Gansu tourism.
The Silk Road refers to an ancient trade route which spans from central China to western Asia. It has played a vital role in facilitating cultural and economic communication between China and other countries along its route.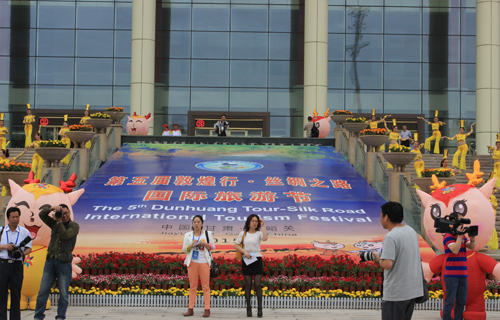 The city of Jiayuguan in Northwest China's Gansu province initiates the opening ceremony of the 5th Dunhuang Tour-Silk Road Tourism International Festival. [Photo/ chinadaily.com.cn]
Chinese President Xi Jinping proposed the Belt and Road Initiative — namely the "Silk Road Economic Belt" and the "21st Century Maritime Silk Road" — in 2013, in a bid to strengthen China's cooperation with neighboring countries in trade and tourism.
"The tourism administration is willing to explore the tourism market together with countries and regions along the Silk Road" said Li Jinzao, the director general of the National Tourism Administration.
"Gansu which contains one fifth path of the Silk Road is a golden channel for China to contact with Central and West Asia. The abundant historical sites and astonishing sceneries endow charm for the province in developing tourism," Li added.
According to Zoltán Somogyi, the Executive Director for the World Tourism Organization (UNWTO), based in Madrid, Spain, Chinese tourism is currently taking the lead in the world tourism industry. He said that the Silk Road tour has become one of China's most renowned travelling routes.
"Jiayuguan city and Gansu province impressed me this time. And I prefer to find more beautiful destinations in other Chinese regions, apart from Beijing and Shanghai," said Somogyi.
At the opening ceremony, representatives from the guest nation of honor, Hungary, promoted its tourism products and several Gansu travel agencies introduced provincial travel routes. During the one-month festival, 46 activities centered on the Silk Road, will be held. Among the activities were a tourism products exhibition and a number of media conferences.
Several domestic and foreign officials were present at the opening ceremony, including Wang Sanyun, the Gansu Provincial Party chief.
Edited by Jacob Hooson