About 61 million children in China are classified as 'left-behind' because their parents have moved away for work. Although most live with relatives and have adequate provisions, the psychological toll can be enormous and can result in anti-social behavior, poor academic performance and even suicide. Xu Wei and Wang Xiaodong report.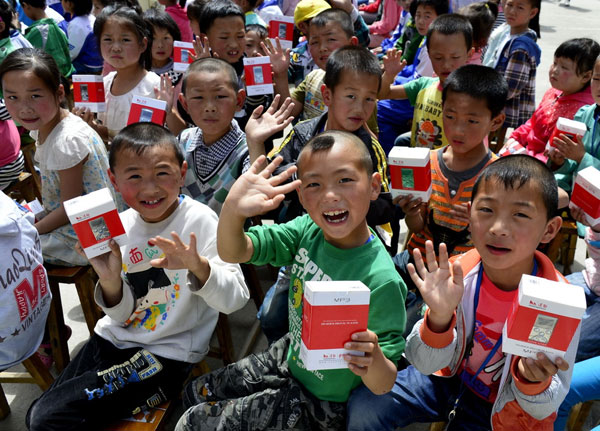 Left-behind children receive gifts from the NGO Shangxuelushang in Liping, Guizhou province. [Provided to China Daily]
More than 15 percent of "left-behind" children have no physical contact with their parents during the course of a calendar year, and 4 percent receive just one phone call a year, according to a survey released on Thursday.
The survey, conducted by an NGO called Shangxuelushang, or "On the Way to School", found that a large number of children are left at home, and their parents have failed to assume their roles as legal guardians. Many parents either lose all contact with their children or fail to communicate with them effectively.
"The results defy imagination. Many parents do not even know that it's necessary to communicate with their children on a regular basis," said Liu Xinyu, who led the survey team.
Between October and December last year, more than 2,130 left-behind children were surveyed in rural areas in six provinces. The survey found that the company of parents, especially the mother, can significantly reduce a child's psychological distress and confusion.
"That's because the mother can generally provide much better life support for the children. More important, the absence of the mother from their children usually occurs if the parents divorce," Liu said.
The conclusion supported the findings of a 2013 report by the All-China Women's Federation, which found that children with absent mothers, and those who live solely with their father, are far more likely to drop out of school.
Heightened risk
China has 61 million left-behind children, or children who have been left without care after one or both parents moved away in search of work, according to the federation. It estimates that 46.74 percent of left-behind children have seen both parents move away - 32.67 percent of them live with their grandparents, while a further 3.37 percent live on their own. The federation said these children are most at risk.
The plight of these children was highlighted on June 9, when four siblings in Bijie, Guizhou province, committed suicide by drinking pesticide at home.
The children had not seen their father since March, when he left home to work in Guangdong province. Their mother left the family home in March last year after a fight with her husband that left her hospitalized. The eldest child, a primary school student, had been tasked by his father with taking care of his three sisters and two pigs who live in the family's livestock pen.
Guan Jun, a writer at the news portal NetEase, spent more than three months with left-behind children in a mountainous county in Gansu province between December and March. He said the children develop psychological problems much more easily than those in more-settled families.
"The biggest problem they face is that they lack love and the company of their parents," he said. "Many isolate themselves and suppress their feelings."
Many children live with their mothers, while their fathers migrate to other cities to work. That has resulted in a higher level of disputes and divorces among "split couples" than among those who live together in the same place, and can exert extra psychological pressures on the children, he said.
"I conducted a survey at a school in the county I visited, and about 50 percent of the students said they wished their parents would stop quarreling," he added.
One of the main reasons parents leave their children behind is that as migrant workers they have no access to social security in the cities where they work.
"Additionally, many of them are temporary workers, and may change their job several times a year, so it's impossible for them to bring their children with them," Guan said.