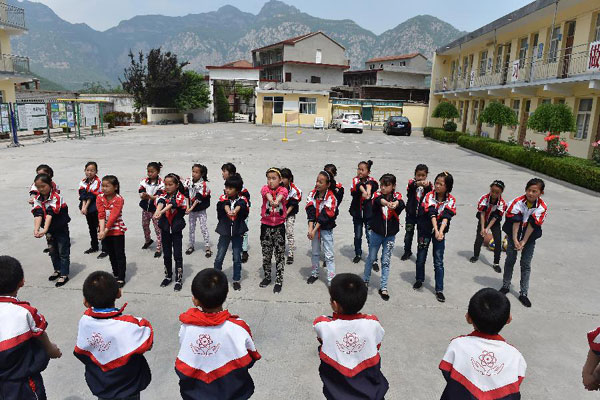 Boarders have a PE class at the primary school of Shicheng Township of Pingshun County, north China's Shanxi province, May 26, 2015. The children in the school are mostly left behind children whose parents work outside of their hometown. [Photo/Xinhua]
For the first time, a survey with national significance has focused on the psychological health of children in rural areas who have been "left behind" by their parents who work in cities.
This is significant, as well as necessary, because it will help draw more attention to improving the living conditions for this especially vulnerable young group of children as the country goes through new rounds of urbanization.
The survey, initiated by a non-profit organization and covering six provinces in China's east, central, northeast and southwest regions, found that about 10 million children of migrant workers did not see their parents all year round. Some 2.6 million "left-behind" children do not even have one phone call with their parents in a year.
Nothing is crueler than depriving children of their parents at a young age. Both the government and the whole of society should devote more attention and care to these children, whose plight is in sharp contrast to the economic miracle their parents have helped create in recent years.
Statistics show China now has more than 60 million children in rural areas who are left to live with relatives, usually grandparents, or to fend for themselves as the country's urbanization draws millions of parents from their rural homes to cities.
According to a 2013 report released by the All-China Women's Federation, nearly 3.4 percent of all "left-behind" children live alone, often falling victims to tragedies such as suicide and human traffickers.
On June 9, four children aged between 5 and 13 died after swallowing pesticide in their home in Bijie, Southwest China's Guizhou province. These children had been left to live on their own by their separated parents who were both migrant workers.
Such tragedies time and again put the lack of parental care and social services for "left-behind" children in the spotlight, and the plight of children that have been left to care for themselves poses a social problem that the country urgently needs to address.
Any efforts that seek to mobilize more care for these children in fields ranging from psychological health to measures to create jobs for their parents near their hometowns should be encouraged by both the government and the society.