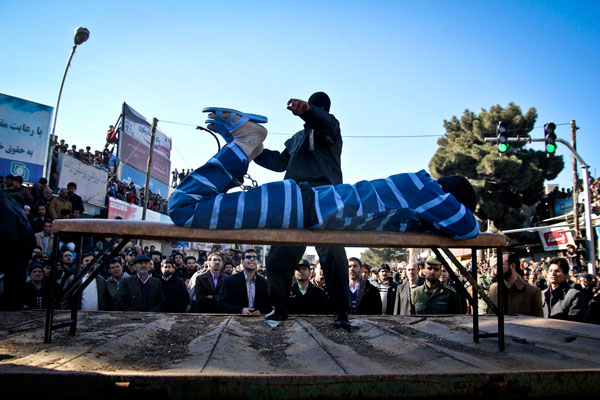 An Iranian officer lashes a man, convicted of rape, at the northeastern city of Sabzevar, Iran, Wednesday, Jan. 16, 2013. [Photo/IC]
China's social media is abuzz over a court verdict which saw a man imprisoned for life for killing someone he believed had raped his wife.
The man, surnamed Tian, worked at a car repair shop in Ruian, Southwest China's Guizhou province. One night in 2006 while he went out for a walk a man surnamed Zhang, living in the same building, sneaked into his room.
When Tian returned he heard his wife's screams and rushed back into the room where he saw Zhang sexually assaulting his wife.
Seeing Tian, the suspect pulled up his pants. The angry husband began grappling with Zhang and during the fight picked up a kitchen knife and stabbed him to death, according to Wenzhou Intermediate People's Court in East China's Zhejiang province.
Tian had been on the run until turning himself in to police last February and was sentenced to life in prison for intentional homicide.
That decision has now sparked outcry on China's social media.
According to a poll launched at Sina Weibo, China's version of Twitter, in excess of 75 percent of the more than 90,000 respondents believed the "punishment is too heavy".
According to China's criminal law, self-defense is only justified at the time an offence is occurring.
In a similar case in the USA in 2013, a Texas father was acquitted of murder after killing a man he discovered raping his 5-year-old daughter.
Meanwhile, in a pending case in India, a father is awaiting his fate after killing a man he believed had raped his 14-year-old daughter.