In today's trending, Chinese social media debates study that black people age slower, cellphone screen fails to crack walnut as advertised, graduates make a bundle taking graduation photos, woman gives birth on motorcycle, and a monkey drummer on a dragon boat.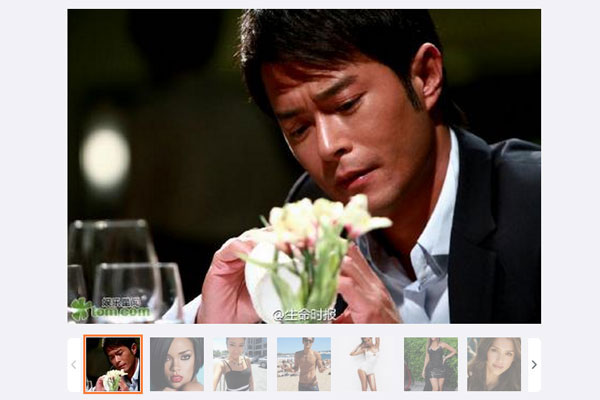 Louis Koo, a Chinese actor with dark skin.[Photo/Sina Weibo]
Social media abuzz that darker skin ages slower
Research at Harvard which found that black people age slower than white people has caused a heated debate on China's social media.
Researchers at Harvard found that a lucky few people have genetic makeups which protect their skin and can make them look years younger than their actual age.
Although the research went beyond skin color, one interesting side note of the study, not yet published but just presented at the World Congress of Dermatology in Canada, is that black people are twice as likely as white people to have the genetic combination for youthful skin, according to the BBC.
The results struck a strong chord in China, where pale skin has been traditionally associated with beauty and many people use umbrellas or face masks to protect their pale skin on streets or on beaches.
On social media, the hashtag "people with darker skin age slower" attracted more than 19 million readers on Sina Weibo, the Chinese version of Twitter, and more than 28,000 Web users discussed the topic.
Some darker-skinned Chinese people felt emboldened by the study. One user lq676767 said: "I am dark and I am healthy."
Others said paler skin would still be valued more in China, even if there was a greater chance of looking older. "In China, however, white skin is still regarded as beautiful," said user pink master, a comment that was liked more than 60 times.
In our next story, a man tests a cellphone ad claim only to break his phone screen.