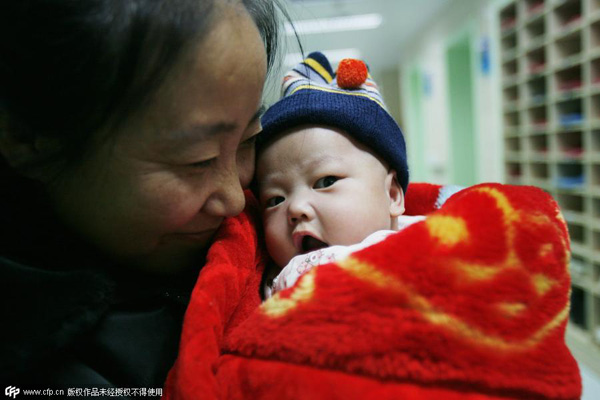 Li Lijuan holds one of her adopted babies suffering from fever after it is discharged from hospital in Shijiazhuang, capital city of North China's Hebei province, Jan 26, 2013. [Photo/CFP]
A woman in Wu'an, North China's Hebei province, has spent the past 19 years using the millions she made from her investments in the 1980s to house 73 abandoned children
Li Lijuan just turned 46 on April 26. But she's already a "mother" of 73 children, with only one of them her own.
Every morning, she gets up at 5, makes breakfast, cleans the house yard, and sends 22 kids off to school by driving a minibus.
Years' devotion to the adoptive children has whitened much of Li's hair. The rough skin on her face makes her look like an old woman.
However, few people would know Li used to be millionaire, who acquired her wealth through garment business and smart investment in the iron ore industry in the 1980s.
In 2008, the iron mine got in the way of urban construction and was eventually shut down. After losing her major source of income, Li was no longer able to meet the costs of her large family.
Her financial woes took another turn in 2011 after Li was diagnosed with early-stage lymphoma.
The former millionaire was sick, but unwilling to spend money on treatment as she felt it could be better put to use taking care of her adopted children.
She only spent only seven days at the hospital before checking out.
Selling off her properties and possessions did not improve matters much. Neither did donations or help from friends and relatives. Her current debt stands at over 2 million yuan (about $322,000).
Although some volunteered to look after the children, strict adoption laws make it difficult for them to legally find new foster guardians.
All of her foster children are registered under her name and were never formally declared orphans, meaning they cannot be adopted by other families under Chinese laws.
Though Li receives donations from charities, the cost of raising children, many of whom require extensive operations for disabilities and other birth defects, far outweighs the money she receives.