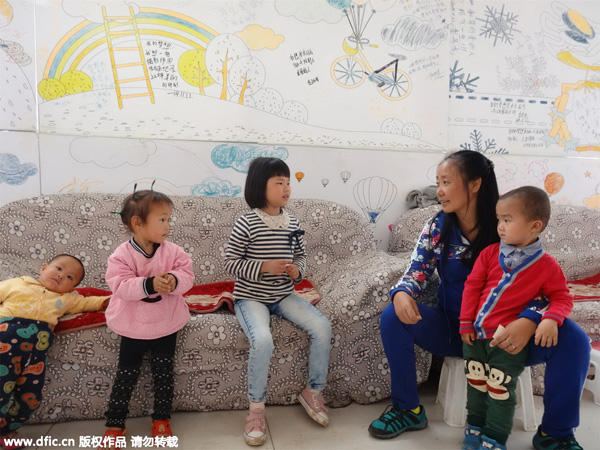 Li Lijuan talks with four children she adopted in undated photo. [Photo/IC]
Despite the struggle with making ends meet and poor health, Li said she was a proud mother pointing out that three of her children have gone to universities and one is a public servant.
The only regret she has is that she has been estranged from her biological son, Xiaowen, for the past 10 years. Li became a single mother after a divorce when Xiaowen was four.
The little boy suffered a serious spinal injury in 2004 and had to undergo surgery, but her mother was not able to be by his side because she was taking one of her foster children to another hospital for a follow-up operation.
Xiao became severely depressed due to his mother's absence and had to seek professional help. He now lives with his grandmother.
Kindness runs in family
Li Lijuan credits her grandfather and mother for setting a good example for her.
Her grandfather, Li Zirong, was a famous doctor, often offering free treatment and donating food and money for the poor patients.
Li's mother, who is now 84, has been helping Li take care of 10 orphans.
Five daughters of Li have offered to take one of their brothers or sisters as a "dowry" when they get married.
Striving for better future
Now the search is on for some means of keeping the children fed and clothed. Adoption by others is one option. However, the children are technically no longer orphans, being under Li's name now, and so she cannot give them away even if she wants to, and has been forced to refuse existing offers.
Therefore, Li hopes to establish a private-run welfare house which she has already named "Love Village".
"I don't want it to be called an orphanage as I don't want my children to feel like they have no parents," Li was quoted as saying in chinanews.com report on May 18, 2015. "In the 'Love Village', I am the mother of them all."