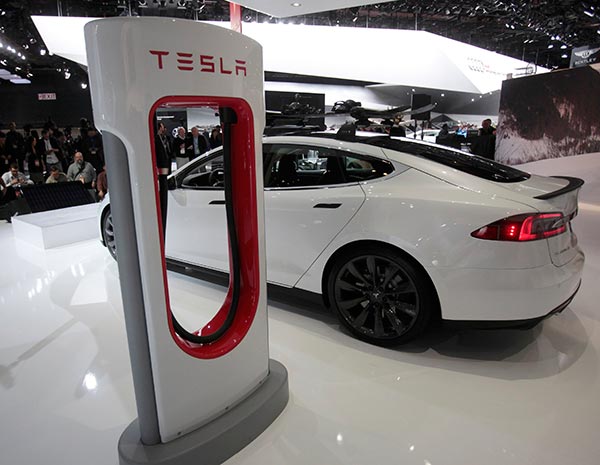 A Tesla S electric car and a charging station are displayed during the press preview day of the North American International Auto Show in Detroit, Michigan, US Jan 14, 2014. [Photo/Agencies]
While the lackluster sales in China indicate a difficult market for Tesla, the figure also suggests the untapped potential of the emerging market and reveals there are few, if any, strong competitors that pose a threat to Tesla.
"Actually, no automakers in China consider electric sedans for individual customers a major development strategy, not to mention as luxury cars for high-end buyers," said Zhong Shi, an auto industry analyst.
Jia Xinguang, an industry insider, echoed Zhong's words, pointing out that market demand for electric sedans has remained weak, as few electric auto models in China can satisfy consumers and compete with conventional cars.
Chinese electric car buyers still face difficulties in finding charging stations when their batteries run low.
More importantly, according to Jia, price-sensitive Chinese car buyers are more inclined to choose gasoline vehicles that provide a more comfortable driving experience at the same or lower price.
Chinese companies are therefore reluctant to spend big bucks exploiting the electric sedan market, as even the most popular domestic brands from major producers like BYD Auto, Chery and JAC Motors saw their electric car sales linger around the thousand-unit level.
Even if homegrown manufacturers change their mind and try to catch up with their peers overseas, their technological reserves and financing mechanisms in China can't support production and promotion of cars like Tesla's, Zhong said.
"However, the electrification of public transportation services has proved to be a growth point boosted by government policies," Jia said.
BYD Auto, a Chinese automobile manufacturer based in southeastern Shenzhen city, has seen strong sales of electric buses and taxis, which are easily found in the city of Shenzhen and in the provinces of Shaanxi and Hunan.
In recent years, the proportion of pure electric coaches in China's bus market has grown quickly. The figure has climbed from 2 percent in 2010 to 9.9 percent in 2012, and is expected to approach 20 percent for 2013.
More Tesla stories: