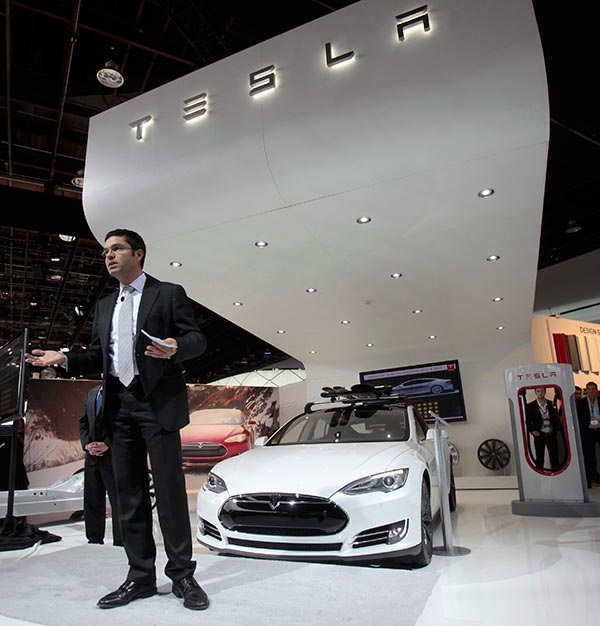 Jerome Guillen, Vice-President of Tesla Sales and Service, speaks in front of a Tesla S electric car during the press preview day of the North American International Auto Show in Detroit, Michigan, US Jan 14, 2014. [Photo/Agencies]
BEIJING -- With its racing body, reasonable pricing and ecological concept, Tesla's latest pure electric sports car has caught the eye of motor enthusiasts, industry insiders and environmentalists in China.
Amid high sales expectations and cautious sizing up by Chinese automakers, there is also hope that the American upstart can bring fresh air to China's stagnant new energy vehicle sector.
Tesla, a US electric car maker established in 2003, has generated buzz in the United Statesby building a coast-to-coast network of charging stations for customers to charge their cars quickly during long-distance journeys.
It sold 18,650 units of the Tesla Model S in the US market last year, up 611.8 percent year-on-year, ranking third in electric
car sales
, following products from auto giants
General Motors
and
Nissan
.
The company made its debut in China this month with the Model S at a lower-than-expected price of 734,000 yuan ($121,300), almost the same as in its home country, excluding taxes and transportation costs.
The move was expected to bring a competitive edge for Tesla to gain a foothold in the world's largest auto market and put pressure on its rivals.
Zhang Junyi, an auto analyst with Roland Berger Strategy Consultants, said that "Tesla could be a catfish put into the sardine pool of China," stimulating domestic manufacturers to carry out development of their own high-end electric vehicle brands.
However, Tesla's success on the other side of the Pacific is far removed from the complex competition of the Chinese market, and its high expectations in both sales and influence have yet to be proved in China.
In 2013, vehicle sales in China totaled 21.98 million units, marking the country's fifth straight year as the world's largest auto market.
Nevertheless, sales of new energy vehicles stood at just 17,642 units, with sales of pure electric cars even weaker, accounting for less than 0.1 percent of the country's total car sales.
More Tesla stories: