Tesla joins Chinese auto market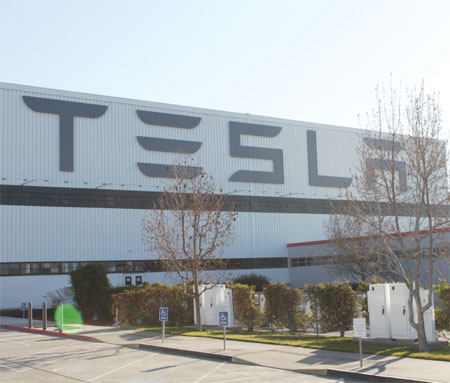 A Tesla service center in Fremont, California. The electric car maker announced the price in China on Thursday. Chang Jun / China Daily
Car company puts "fair and risky" $121,000 price tag on Model S sedan
Tesla Motors Inc, the California-based maker of electric vehicles, has announced a $121,000 price tag for its Model S sedan in China as it begins its foray into the world's largest auto market.
The price of the battery-powered Model S sedan is approximately 50 percent above the price in the US. The difference between the Chinese and US prices is due to "unavoidable" charges, including taxes, import duties and transportation charges, the company said on its website Thursday.
The price was described by Tesla - which opened its first Beijing showroom late last year - as both fair and risky. The company chose to treat Chinese customers as well as it would treat customers in any other country, instead of charging twice as much, it said.
"I think the right long-term strategy is do the right things for customers," CEO Elon Musk told China Daily in an interview. "If you treat customers well and fairly, then in the long term, I think they reward you with loyalty."
Sales in China, the world's biggest auto market by sales, surged 13.9 percent in 2013 to 21.98 million units, according to the China Association of Automobile Manufacturers. However, Musk said he expects just 5,000 Model S deliveries in China this year, reaffirming the company's earlier projections.
"Our production is relatively limited. As for the last year, we were not limited by sale, we were limited by production," Musk said. "Our production will catch up with the demand in a few years, but I think for this year and probably next year, the demand will be higher than our production. "
Musk said he would encourage anyone who wants to order a Tesla car to do so quickly "as we will not have any production left for the year."
Tesla said it expects to begin delivering the Model S in China late this spring. The Palo Alto, California company began to accept orders in August.
Musk said he expects the company "to be in six metropolitan regions in China by the end of this year, with multiple service centers in each metropolitan area".
Tesla is also looking to develop a Supercharger network in China to enable owners to travel long distances between major cities such as Beijing and Shanghai.
The road for Tesla hasn't been smooth since it entered China last year. A local Chinese businessman has already secured rights to use the name Tesla in the country, meaning the maker of the best-selling US electric car still lacks a Chinese name.
Musk said negotiations aimed at resolving the dispute are proceeding. About half of the matters at issue have been resolved, he said. "The Chinese authority has been very helpful and it is been very good working with them," he said.
Theodore O'Neill, managing director at Litchfield Hills Research, said the "biggest challenge" for Tesla will be "to keep its design from being copied."
"I think the Chinese have a deep appreciation for design and engineering excellence and I think the Tesla Model S has a rare combination of both," O'Neill said in an interview.
yuwei12@chinadailyusa.com