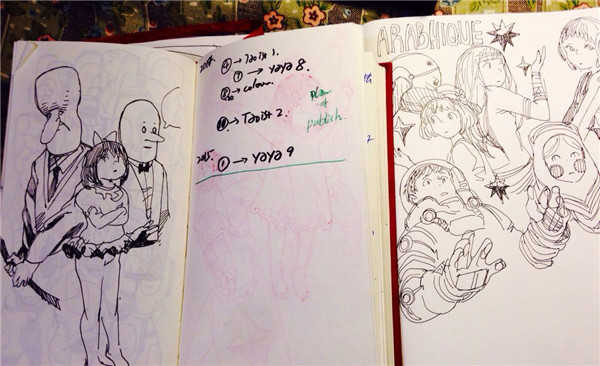 Sketch drawing by Golo. [Photo provided to chinadaily.com.cn]
No place like China
So far, Zhao has published several cartoon books that have won him about 20 awards in France. He goes to France every now and then, and has traveled to a large part of the country.
This year, he was even chosen as one of the five ambassadors for the 11th Festival Croisements to promote the French culture and art.
But asked whether he'd consider moving to France, he shook his head in a contemplative smile.
"It is a fascinating place, too fascinating that I tend to lay back and do nothing."
Zhao once spent a month in France and was void of mood for creation. "I pretty much achieved nothing there without pressure and all," he said.
So instead of drawing, he took time to explore the city - going to the art material stores to study the materials and go to bookstores reading and talking with clerks.
"The chitchats I had with bookstore clerks left me in surprise, yet explained to me what life is really like in France."
Zhao said that from what he can recall, the clerks barely changed their jobs in five years' time, and seems to be rather contended in it. They do not think that much about promotion or 'striving for a better future', life to them is beautiful as it is.
It was a complete strange life for the present China, where everyone tries to be better. "I can feel the pressure, but it also pushes me to keep drawing."
This is also part of the reason he chose to stay in the country despite its fast shrinking printing industry and craving for free-reading consumers.
"China is like no other place. We've got our unique way of consuming books. We've already surpassed Japan and Europe where paper books are what people reading the most."
Zhao knows quite well that here in China it is the capital and internet that are playing the game.
"Who would go out of their way to buy cartoons drawn by domestic cartoonists when you may read thousands of Japanese cartoon online for free?"
Typical print volume of a popular cartoon could reach 400,000 about 20 years ago, now average print volume dropped to about 10,000.
"Money is going into the animation industry already, it is quite promising" Zhao observed.
So does he want to dive into animation?
"I'd better just stick to drawing. That's what I do."