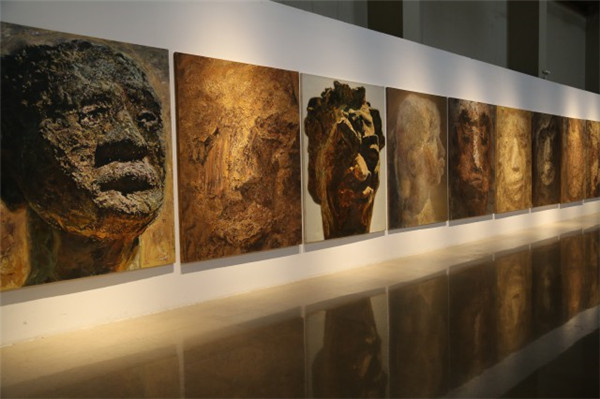 Artist Wang's Lao Wan Series is on display at Chinese Academy of Oil Painting in Beijing, June 21. [Photo provided to chinadaily.com.cn]
Chinese artist Wang Gang's personal exhibition of oil paintings, Heaven and Earth, opened at the Chinese Academy of Oil Painting in Beijing on Monday.
Attending the exhibition's opening were the famous oil painter Su Gaoli, art critic Deng Pingxiang and 500 guests.
At the opening ceremony, Deng said that Wang's art shows us the direction of Chinese contemporary art, which is marked by strong narration and broad content and is profound.
The exhibition showcased more than 70 works created in the past 18 years, including the Lao Wan Series, Taihang Mountains, and Yellow River Number Six.
The Lao Wan Series is the personification of thousands of Chinese farmers. These art works are breakthroughs in terms of technique and form. They express the firm and persistent character of the farmers, which is also the character of our Chinese nation, said Li Zhiyuan, deputy director of the Xinhua Academy of Painting and Calligraphy.
The exhibition is on display until June 28.