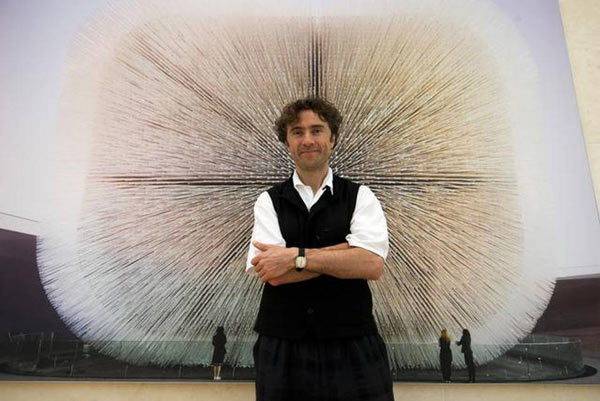 Exhibition on British designer's works opens in Beijing.[Photo/CNTV]
As part of the 2015 China-UK Year of Cultural Exchange, the designer himself showed up at the opening of the exhibition, named "Inside Heatherwick Studio".
In twenty years, Thomas Heatherwick has produced several projects that have captured the popular imagination.
The famous "Seed Cathedral" at the Shanghai World Expo was only the first proper building designed by Thomas Heatherwick, and became a career-defining turning point. He has since worked in many countries, with a wide range of commissioners and in a variety of regulatory environments.
But Heatherwick Studio is much more than a hairy rectangular structure and copper petals that hold the Olympic flame. His current works including two in Shanghai - an urban project in Moganshan, and Bund International Financial Centre. This exhibition presents a number of his unique projects. The repertoire of work includes not only architecture, but also engineering, urban planning, furniture, sculpture and product design.
"The curator, Kate Goodwin, has just emersed herself in what me and my team have been working on. And the British Council called this exhibition 'New British Inventors', so I felt very honored to be chosen to be put in this role, and our studio's work, to be examined in that, reconnecting with the spirit of ideas all lead by people who would make connections across things," Heatherwick said.
The exhibition features prototypes, experiments, material samples and finished works from key projects, which offer a clear look at the designer's artistic mindmap. Although the studio has aquired a particular focus on unusual project on a large scale, here it's surprisingly friendly and intimate to see, and even play, with the test pieces. One can appreciate the craftsmanship up close, undertaken in a spirit of curiosity and experimentation.