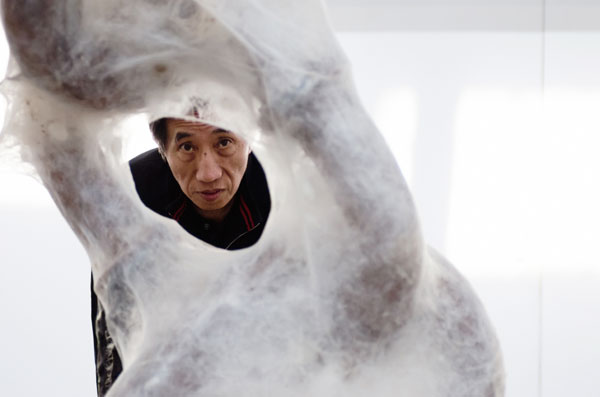 Liang with one of his works. [Photo provided to China Daily]
An artist's patient fascination with a thread-spinning insect makes his work slowly come to life, Deng Zhangyu reports.
Many artists create dozens of works a year, but conceptual artist Liang Shaoji takes his time to make his pieces. That's because he first has to spend time raising silkworms and watching them spin threads - a medium that runs throughout his art life. Liang's recent show at Shanghart Gallery in Shanghai unveiled the latest works of his Nature Series made in the past five years. The highlight, Destination, is an installation of large steel chains dusted with silken and sparkling-white threads, in sharp contrast to the black oil flowing within the chains. A video records sound of glass breaking, silkworms spinning on glass and the artist's breathing.
The 69-year-old says the entire Nature Series is a sculpture of life, time and nature. It started in 1989, featuring everything related to his tiny co-creators, including silk threads, cocoons and silkworm corpses.
Liang has raised silkworms for the past 25 years. The number of silkworms he rears is dependent on how many he needs to finish each work, ranging from 10,000 to tens of thousands. His art is to experience the whole life of the humble creatures, from their birth, spinning to breaking the cocoons.
"My art is like doing experiments. I have to be patient enough to wait for my work to take shape after months of meditation on life and time," says Liang.
Since 2010, Liang has lived in a small village near Tiantai Mountain, where Buddhism and Taoism coexist and where some "crazy monks" in Chinese culture like Jigong went to seek enlightenment centuries ago. His settlement there is seen as a pursuit of hermit life by his friends, but Liang disagrees.