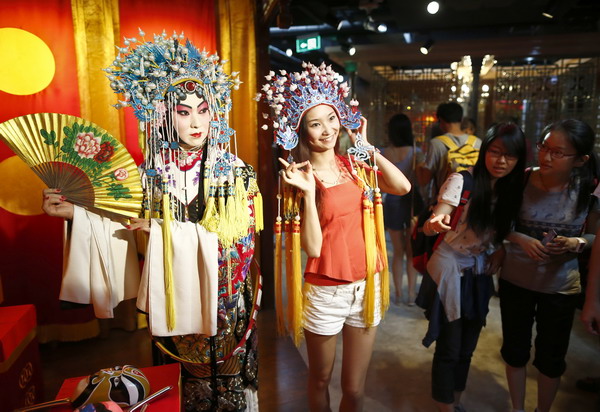 A visitor poses for a photo with the wax figure of Peking Opera master Mei Lanfang at Madame Tussauds' wax museum in Beijing on Saturday. Feng Yongbin / China Daily
George Clooney sits in a yard below an engraved archway, while Bruce Lee jumps out through a wall. The Chinese filmmaker Zhang Yimou smiles as he leans on a wooden pillar, red lanterns hanging above his head, while the Peking Opera master Mei Lanfang waves his hands to signal the next phase of music.
Welcome to a brush with fame with wax celebrities at the newly opened Madame Tussauds' waxworks in Beijing.
After two years of preparation, the museum lifted the red curtain on Saturday and welcomed its first visitors. It's the fourth Madame Tussauds in China, after Hong Kong, Shanghai and Wuhan.
Located in the central axis of Beijing at Qianmen Street, a traditional commercial street behind Tiananmen Square, the three-story building features eight zones, including The Spirit of China, Leaders, Sports, Music, Film and Television.
"Beijing is the ideal place for the 16th Madame Tussauds. It's an energetic city with a great history and culture," said Craig Dunkerley, head of new openings Asia for the Merlin Entertainments Group, which owns the Madame Tussauds brand.
Despite the hot weather, long lines of visitors - young couples, families with children, and students - waited for their turn to see the waxworks. Many had pre-booked their tickets online.
"It took me half an hour to wait in the line and another hour to see the exhibits," said Liu Xi, who bought an opening-day ticket online 11 days ago. She said the large crowds meant there was no opportunity to have her photo taken with her favorite stars.