Who is Angelina Jolie?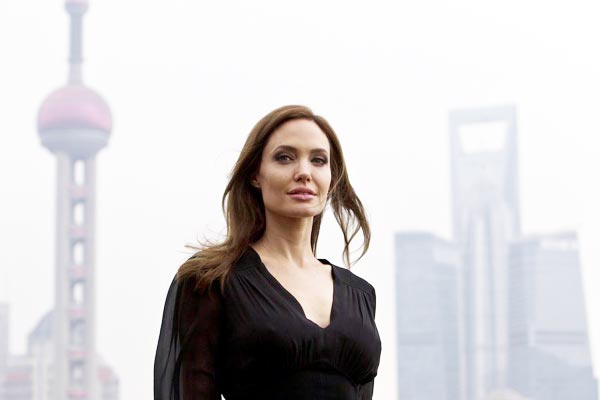 Actress Angelina Jolie poses during a photocall as she takes part in a promotional tour for the film "Maleficent" in Shanghai June 3, 2014. [Photo/Agencies]

Oscar-winning actress, film director, screenwriter and author Angelina Jolie was named

Hollywood'

s highest-paid actress by Forbes in 2009, 2011 and 2013. A noted activist for humanitarian causes, she is a Special Envoy and former Goodwill Ambassador for the United Nations High Commissioner for Refugees (UNHCR).
Her breakout role in Girl, Interrupted(2000) won her an Academy Award for Best Supporting Actress, while Lara Croft: Tomb Raider (2001) saw her shoot to international stardom in the adaptation of the popular video game Tomb Raider, closely followed by its sequel The Cradle of Life (2003).
2005's Mr. and Mrs. Smith saw her get together with co-star Brad Pitt to become arguably Hollywood's most famous couple, and she cemented her reputation as an action star in Wanted (2008), Salt (2010) and The Tourist (2010).
She has also achieved critical success with her roles in A Mighty Heart(2007) and Changeling(2008), which gained her a nomination for Best Actress at the Academy Awards. 2011 saw her directorial debut with In the Land of Blood and Honey, a love story set against the background of the Bosnian War.
Jolie first encountered the effects of humanitarian crisis while filming Lara Croft: Tomb Raider (2001) in Cambodia, which spurred her to contact the UNHCR to learn more about refugee camps around the world. She visited troubled spots inSierra LeoneandTanzaniain 2001 and was shocked at what she witnessed.
Over the next decade, she would go on field missions in more than 30 countries, raising awareness for the plight of refugees in forgotten emergencies around the world and publishing Notes from My Travels in 2003, a memoir of her experiences.
In 2006, Jolie created Asia's first Millennium Villagein Cambodia, named for the UN's development goals.The compound includes schools, roads, and a soy milk factory, all funded by Jolie.
Jolie has built at least ten other schools in Cambodia, Kenya and Afghanistan. She funds the Maddox Chivan Children's Center, in Cambodia and the Zahara Children's Center in Addis Ababa which treat children suffering from HIV and tuberculosis. These facilities and other projects are funded through the Jolie–Pitt Foundation, established in 2006.
In 2013, she received the Jean Hersholt Humanitarian Award, an honorary Academy Award.
Jolie lives with actor Brad Pitt, in a relationship notable for fervent media attention. Jolie and Pitt had three biological children and three adopted children.