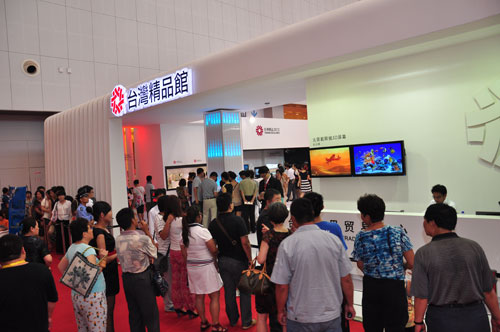 Visitors at 2012 Tianjin Taiwan Trade Fair.[Photo/chinadaily.com.cn]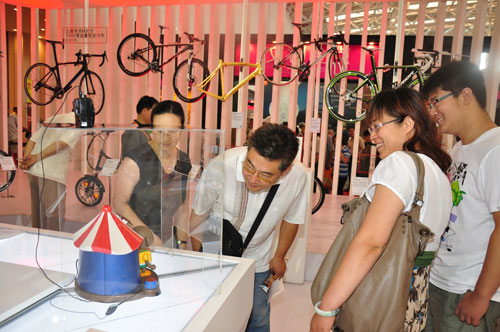 Exhibit - Robii, the world's first companion robot, can turn any tabletop surface into a virtual display that children can control directly with their fingers. The intuitive and user-friendly interface helps stimulate the sense of touch.[Photo/chinadaily.com.cn]
The curtain of the 2012 Taiwan Trade Fair has been raised in Tianjin on July 5, and lasted until July 8.
Various creative products can be seen at the fair, among which ten top the world in terms of their unique functions.
The ten products are showcased in the exhibition area related to life and healthcare. They include the world's first driver fatigue detector and green power generator hub dynamo, which can be used to store power that is generated by the movement of the cyclist.
In addition to the ten top-ranking products, there are also another 122 high-tech and creative exhibits covering fields such as electricity, fitness, energy-conservation, and home life. They are all displayed in the pavilion of "Taiwan Excellence", the highlight of the trade fair.
Among them, a super mini fan attracts much attention. It is only as small as a nail, with a thickness of 3 mm, marking the world's thinnest cooling fan. The fan can fully meet the thermal dissipation demand of ultrathin laptops with its low vibration, low power consumption and long life.
This year's fair comprises exhibition areas including green and low-carbon life, the cultural and creative industry, famous Taiwan tea, healthcare, agricultural products and original gourmet products from Taiwan.
Tianjin Taiwan Trade Fair has been held in Tianjin since 2010, and the number of visitors last year hit 405,000, with the trading volume reaching $767 million US dollars.