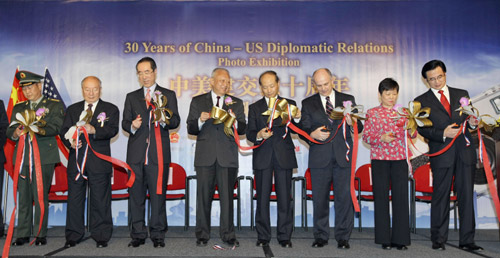 Guests attend the opening ceremony of a photo exhibition marking the 30th anniversary of the establishment of the China-US diplomatic relations in Hong Kong, south China, July 20, 2009. Nearly 300 photos were displayed in the exhibition. [Photo/ Xinhua]
A photo exhibition opened in Hong Kong on July 20, 2009 to mark the 30 anniversary of the establishment of China-US diplomatic relations.
The nearly 300 photos on display range in time from as far back as the voyage to China of the American trading ship Empress of China in 1784, to the G-20 Summit in London this year.
The photos reflect important economic, political and cultural events in the growth of the relations between the two countries, portraying a history of building bridges of understanding and cooperation between the two countries through high-level visits as well as the actions of thousands of individuals, companies, student groups and civic organizations.
"China-US relations have made remarkable progress since 1979, with the joint efforts of four generations of Chinese leaders and seven US presidents as well as the people of both countries," said Tung Chee-hwa, vice chairman of the National Committee of the Chinese People's Political Consultative Conference, at the opening ceremony.