Sino-US talks end positively
Updated: 2015-06-26 03:36
By CHEN WEIHUA in Washington and ZHAO SHENGNAN in Beijing (China Daily)
Comments
Print
Mail
Large
Medium
Small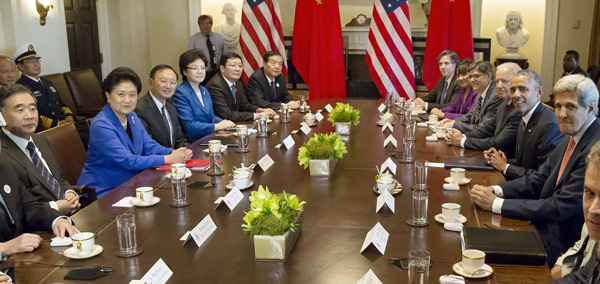 Strategic and Economic Dialogue principals, including Vice-Premier Wang Yang (first left), Vice-Premier Liu Yandong (second left) and State Councilor Yang Jiechi (third left), meet with US President Barack Obama and members of his Cabinet in the Cabinet Room at the White House in Washington on Wednesday. Jonathan Ernst / Reuters
Agreements reached in Washington cover many aspects while differences acknowledged over cyberspace and South China Sea
China and the United States have ended annual high-level talks after reaching agreements in many areas while facing up to differences over cyberspace and the South China Sea.
Hundreds of "outcomes", or items of agreement, were announced after the annual China-US Strategic and Economic Dialogue and High-Level Consultation on People-to-People Exchange wrapped up in Washington on Wednesday.
The discussions struck a positive tone for the often-troubled but highly interdependent relationship after recent maritime tensions.
The US claimed progress with China on a range of topics including currencies, further progress on a bilateral investment treaty, cooperation on combating climate change, and shared concerns about the nuclear programs in Iran and the Democratic People's Republic of Korea.
Describing the investment treaty as the most important issue in the Sino-US trade relationship, Vice-Premier Wang Yang said the talks laid the foundation for a successful state visit to the US by President Xi Jinping in September.
"The successful talks show that the Strategic and Economic Dialogue mechanism is a reflection of the maturity of the bilateral relationship and an indispensable platform for China-US cooperation," Wang said.
Ted Carpenter, a senior fellow of defense and foreign policy at the Cato Institute, a think tank in Washington, said the talks went as well as anticipated.
It was especially encouraging that military officials from both countries indicated that they would be in contact more frequently, he said.
Officials from the two nations had also adopted a low-key, nonconfrontational approach to the sensitive issue of cyberhacking, Carpenter added.
Ni Feng, an expert on US studies at the Chinese Academy of Social Sciences, said Beijing and Washington had not shunned any thorny issues during the two-day talks.
US President Barack Obama met with State Councilor Yang Jiechi and other Chinese officials on Wednesday and raised concerns about China's "cyber- and maritime behavior" and its currency, technology and investment policies.
Yang, China's top diplomat, said the two countries should work together on cybersecurity and called on Washington to be impartial and objective over the South China Sea issue.
He said China had stressed its firm determination to safeguard its sovereignty and urged the US to respect this.
Jia Xiudong, a senior international affairs researcher at the China Institute of International Studies, said the two countries share a consensus on controlling their differences, and this could not be resolved through just one round of dialogue.
Contact the writer at chenweihua@chinadailyusa.com