Xi points way for Sino-US ties
Updated: 2015-06-24 04:25
By CHEN WEIHUA in Washington (China Daily)
Comments
Print
Mail
Large
Medium
Small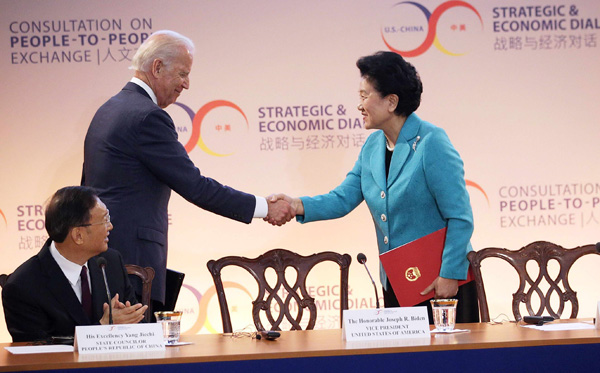 Vice-Premier Liu Yandong is greeted by US Vice-President Joe Biden as State Councilor Yang Jiechi looks on during the joint opening session of the Strategic and Economic Dialogue, and Consultation on People-to-People Exchange on Tuesday at the State Department in Washington. ALEX WONG/GETTY IMAGES/AFP
The two nations 'have vast areas over which they can cooperate'
China and the United States should firmly keep their bilateral relationship on the right track, according to a message from President Xi Jinping to be delivered to US President Barack Obama.
Facing a complex and ever-changing global environment, both nations have vast areas over which they should, and can, cooperate, according to the president.
During high-level talks between the two countries on Tuesday, Vice-Premier Liu Yandong quoted Xi as saying that the priority for China's foreign policy is to build a new type of major country relationship with the US based on non-confrontation, non-conflict, mutual cooperation and a win-win principle.
Xi, who is scheduled to pay a state visit to the US in September, said in his message that if the two nations focus on the bilateral relationship, respect and take care of each other's core interests and avoid strategic misunderstanding and miscalculation, their differences can be managed and controlled and common interests can be protected.
Xi's remarks came as the joint opening ceremony was staged in Washington DC for the seventh China-US Strategic and Economic Dialogue and the sixth China-US High-Level Consultation on People-to-People Exchange.
Vice-Premiers Liu and Wang Yang and State Councilor Yang Jiechi attended along with US Vice-President Joe Biden, Secretary of State John Kerry and Secretary of Treasury Jack Lew.
Liu said Xi placed high emphasis on this year's dialogue and consultation and asked her, Wang and Yang to pass his message to Obama.
Biden said, "We don't see eye-to-eye (on certain issues) but we should not stop working hand-in-hand," citing an earlier speech by Xi on the joint relationship that mentioned "casting our eyes to the far horizon".