Industry practitioners and medical experts warmly welcomed visiting Chinese Vice-Premier Liu Yandong's call for more and deeper collaborations between China and the US on medical research and talent exchanges.
During her visit to the University of Texas MD Anderson Cancer Center in Houston on Sunday, Liu reiterated the Chinese government's resolve to reform its medical and healthcare system and safeguard public health.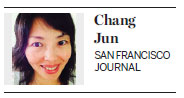 She also shared her concerns about the rising number of cancer patients in China, and the prevention, early detection and treatment for the patients. There are about 3.4 million Chinese diagnosed with cancer each year, of which about 2.1 million will not survive.
"We have to work with the United States and Anderson Center to learn from the advanced science and technology, particularly in our nation's fight against cancer, concerning early diagnosis and detection, precision treatment and early prevention," said Liu, who at a national conference in April said that medical reform in China was at a difficult and crucial stage.
At the same conference, Premier Li Keqiang had identified several key areas that needed attention, that hospitals not be "financed by drug sales"; that the medical insurance payment system be improved; that private entities should be encouraged to set up healthcare business; and a multi-tiered diagnosis and treatment system for patients should be established.
"Both China and the US have agreed this year to add medical cooperation into our ongoing dialogue on high-level consultation on People-to-People Exchange," Liu said.
Xiaodong Jiang, the China head of NEA, an active healthcare investor with more than 35 years of experience funding more than 80 healthcare companies that have gone public in China, said Liu's visit to Anderson was symbolic.
"She is leading the government's efforts to deepen healthcare reform in China, and there is much that the US can offer to China, especially in areas of technology exchange, collaborative medicine and joint medical research," Jiang said.
"The US today has the most advanced technology in fighting cancer, including the latest developments, such as immune therapy, while China has the world's largest population of cancer patients and new diagnosis," Jiang said, adding that the rise of the Internet and digital health technology will enhance the collaboration.
America started its "war on cancer" in 1971 under President Richard Nixon, and the number of cancer survivors has grown by 19 percent in the last 15 years.
"Much can be learned from the best practices of top comprehensive cancer centers such as MD Anderson and the University of California, San Francisco (UCSF) to advance the state of the art of fighting cancer in China," Jiang said.
Professor Robert Warren, chief of surgical oncology at UCSF, said there are a large number of academic medical centers in the US conducting cutting-edge clinical research in all areas of clinical medicine, and historically the largest number of advances in medical and surgical care, particularly in oncology.
"We are poised to collaborate with physicians and researchers in China to accelerate the advancement of medical care, sharing our experiences and outcomes for specific disease which may differ in the West vs. the East," said Warren, who also acts as the chief medical officer at MORE health, a cross-border medical service consultancy startup.
Contact the writer at junechang@chinadailyusa.com