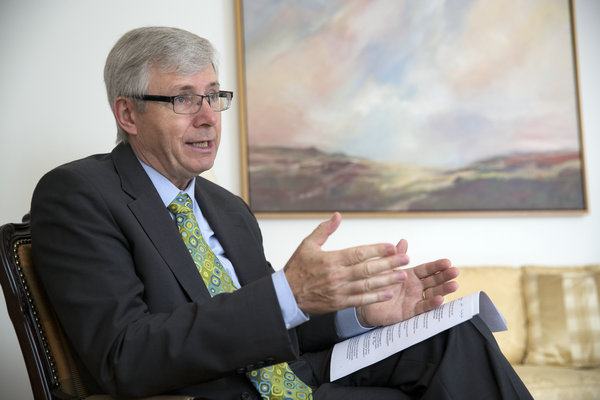 Guy Saint-Jacques has spent 13 years in Beijing and Hong Kong.[Photo by Feng Yongbin/ China Daily]
Guy Saint-Jacques, Canadian ambassador to China, is an old hand when it comes to the country.
So talking to him can feel like chatting with an old friend.
The conversation flows seamlessly between diverse topics-from the late Canadian physician Norman Bethune's help to China in earlier decades to the origin of the diplomat's Chinese name, Zhao Pu.
The name was given by his Mandarin teacher in the 1980s at the Chinese University of Hong Kong, where Saint-Jacques enrolled during a diplomatic stint. For the briefness of his given name, Guy, the teacher suggested the Chinese character pu.
"It's very good for a diplomat-humble, simple and that describes me well," Saint-Jacques says.
Saint-Jacques has spent 13 years in Beijing and Hong Kong.
Before his posting as ambassador here, the Canadian newspaper Globe and Mail said he was among the few high-ranking Canadian diplomats who spoke Mandarin.
Saint-Jacques says his Mandarin has made him a "better" ambassador. He recalls that in 2012, when he was presenting his credentials to then-Chinese president Hu Jintao, he was offered eight minutes for the meeting. But as he spoke in Chinese he gained more time with Hu, saved from the lack of translation.
And on CCTV, where an annual program for ambassadors sees them promoting their countries to Chinese investors, Saint-Jacques makes the most of the few minutes he gets on air by speaking Chinese.
"I sweated so much to learn the language, and if I have the advantage, I will use it every time."
Saint-Jacques got his degree in geology from the University of Montreal in 1974, and a master's in land planning and regional development from Laval University in 1976. A year later, he joined Canada's foreign ministry and his postings have taken him to the United States, Mexico, Britain and China.
He says his fascination with China goes back to his university days, but his first posting in Africa saw him make a number of friends among Chinese diplomats there.
"You have to hope that life will be a succession of happy coincidences," he says, adding that he and his wife, Sylvie, had wanted to come to China for a long time.
After learning Mandarin in Hong Kong for two years, he arrived in Beijing in 1984, where he was stationed until 1987.
"When I left in 1987, it (China) was a very poor country. And I still have the bicycle that I used to go to work then," he recalls.
He returned with his family in 1995, and found Beijing to be a completely different place.