March of the carnivores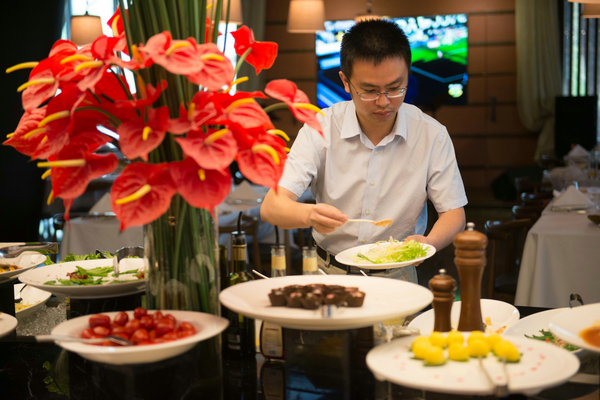 Diners at Latina start at the buffet and then choose from a variety of grilled meats sliced from big skewers at tableside.[Photo by Bruno Maestrini/ China Daily]
As the Olympic Games kick off in Rio, a Brazilian restaurant chain serves up a feast for carnivores in Beijing, Shanghai and Shenzhen, Mike Peters reports.
It is theoretically possible for a vegetarian to go to the Latina Grill, have a good meal, and depart satisfied. There is, after all, an extensive buffet at lunch and dinner heaped with rice dishes, lentil dishes, chick-pea dishes, eggplant, roasted vegetables, salads, fruits and lots of desserts.
They would go mad, however, as waiters march past them, in and out of the grill room, with huge skewers of meats. There is traditional picanha (rump steak). Pig's heart. Lamb chops. Chicken wings. And much more-all straight off the open fire.
If Beethoven had written a March of the Carnivores, it would be playing as you eat.
Latina is amid-range South American-style churrascaria, or barbecue restaurant. You pay a flat rate for access to a salad bar and buffet, and servers bearing large skewers of various grilled meats roam about to carve off portions for you. The Shanghai-based Brazilian steakhouse chain recently opened its first Beijing branch. (There is also a location at Sea World in Shenzhen.) With its modern interior, live band and endless parade of meat, it's quickly become a major protein source in the capital.
Chef Maria Valneide's talents were not given to grill eggplant, though she does so superbly. Brazilian cuisine is famously about meat, particularly barbecue.
"It's quite different from the barbecue we have here," says Liu Wei, a young woman from the capital suburbs who is enjoying Brazilian barbecue for the first time. "Barbecue in China is common, but it's often prepared in the Uygur style from western China, which is usually small slices of meat with a lot of spices."
As Liu shares these comments, a waiter arrives with a double skewer of beef ribs, chunks of bone-in meat as wide as a brick. He slices off half a rib for Liu and another for her boyfriend, and before they can eat those morsels another waiter is at their tableside, this time with a rack of grilled sausages.
And so it goes: Wave after wave of meat arrives-short rib, chicken hearts, skirt steak, lamb leg and more. Servers will cut some directly onto our plates; some we have to grab ourselves as it's sliced, with mini-tongs. The offerings are tender and consistently flavorsome.
"We don't use any spices, except a little salt," says manager Claude Cerbolles. "We want the flavor of the meat to shine through."
Another typical dish of Brazil, feijoada, is popular, too, for those ordering a la carte. The traditional stew of black beans, rice and pork is homestyle perfect, and the ideal pairing is either a Brazilian beer or Guarana Antarctica, the second-best selling soft drink in Brazil (after Coca-Cola). We were also pleasantly surprised by the extensive wine list, including a house red from Brazil that was very drinkable.
There are strong cocktails on offer, too. The signature caipirinha-crafted with lime and cachaca (Brazilian sugar cane brandy)-can make you giggly with the first sip, but it's easy to drink even if it's new to you. Perhaps a little too easy, since eating a meal here tends to go on for some time.
As the evening winds down, the servers will stop by with skewers that do not have meat. Instead, they offer grilled pineapple or cinnamon-flavored bananas as a sweet finish to your meal.
Contact the writer at michaelpeters@chinadaily.com.cn