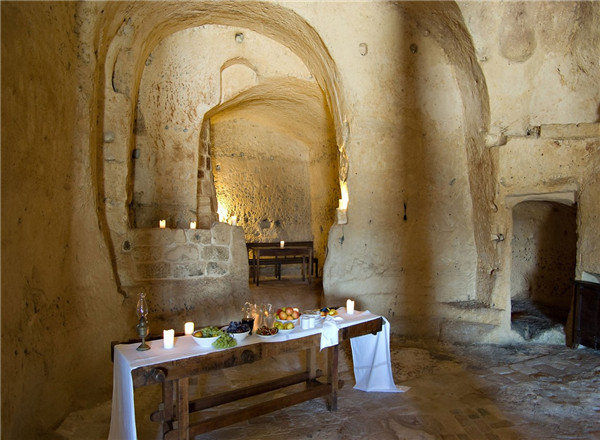 A room in Sextantio Le Grotte cave hotel in Matera, Italy. [Photo/ bbs.qyer.com]
You've travelled to quite a few places in China, are there any specific places that interest you? Do you think they could be better preserved? If so, how?
The Chinese people's historical knowledge allowed architectures to build quality structures and landscapes with a universal value which many of them are now inscribed on the UNESCO World Heritage list. However, traditional knowledge is in danger and its disappearance would cause the loss of the people's capability to keep and pass on the artistic and natural heritage.
With the abandoned villages and mountains, some places have lost their ability to absorb water and mitigate climate. Landslides and flooding are becoming more frequent. A new environmental and urban design based on blue and natural engineering is necessary. We need to inventory, protect, and reuse traditional knowledge as an extraordinary source so that appropriate innovative solutions can be derived today and in the future.
Using traditional knowledge does not mean reapplying the techniques of the past,. It means to understand the logic of this model to create projects based on innovative sound technologies. The Matera UNESCO experience was a methodology of inventory that was elaborated by IPOGEA and the International Traditional Knowledge Institute (ITKI) to gather and protect historical knowledge and promote innovative practices.