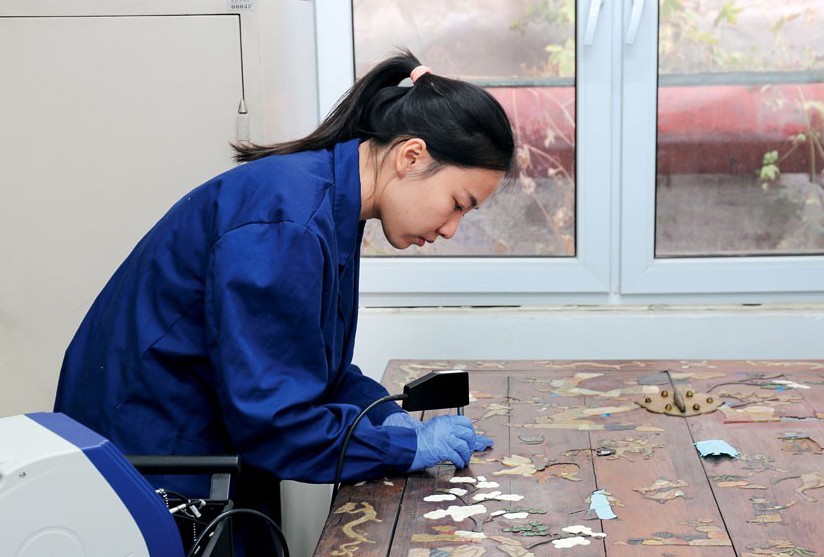 A staff member renovates an ancient furniture in the Palace Museum. [Photo/CCTV.com]
Crowds are flocking to the Palace Museum to see its priceless treasures, and they're paying tribute to the immortals of Chinese art. But now it's time to sing the praises of those backstage heroes who make it all possible - the restorers and archivists. An exhibition devoted to them has now opened.
The exhibition showcases the repair of many different cultural treasures, including antique paintings and calligraphy, ceramics, clocks, and wood-ware. Many restored items are on display, and there is a video featuring highlights of the repair process.
Shi Ningchang is the museum's director of Cultural Relics Preservation. Shi said:"This is the first exhibition on the restoration of cultural relics, and we've selected more than 40 of the most representative to display in an effort to introduce these restoration skills to visitors."
Located in the Forbidden City, which was the imperial palace during the Ming and Qing dynasties, the museum has more than 1.8 million pieces, but many are damaged or broken - a daunting task for a team of little more than a hundred restorers.
"Such a comprehensive exhibition hasn't been held before and showcases scientific and technological achievements in the restoration of cultural relics. It includes introduction to the process in different categories. And we hope that the achievements made by our staff using both traditional skills and modern technologies can be presented to the visitors," said Shi.
The exhibition will last until Nov. 15. Tickets to the Palace Museum are also valid for the event.