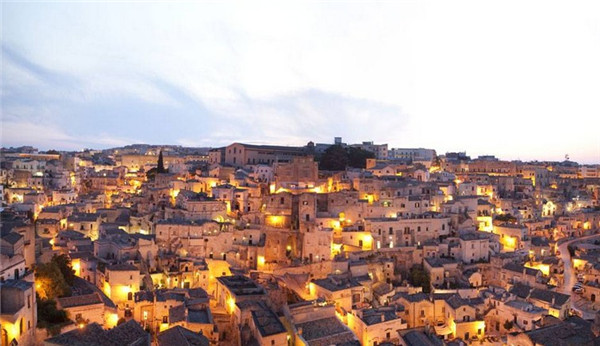 Night view of caves in Matera. [Photo/lianorg.com]
When did people start moving back to Matera? Why are they moving back, are there any incentives?
People started moving back after the inscription of Matera as a UNESCO World Heritage Site in 1993. It was the first such site in southern Italy. By stimulating the will and the pride of the community, Matera, as cultural and economic endeavor, generated a new vision.
It was necessary to give people examples. When I did the UNESCO candidature project, I restored a grotto-house and I lived in the caves with my family. We inserted all modern facilities in the cave-house without to altering its original elements.
As an incentive, the state paid 50 percent on restoration expenses. With the new image, the tourism and the increase of in value for habitation, more and more people returned.
Now, who lives in Matera? How do they balance the ecosystem with their daily lives?
The residents are intellectual working class people. There are many foreigners living in Matera. They identify with the qualities and the meanings of those places.
They (Matera residents) became part of the brilliant Matera ecosystem by saving water and energy, recreating the community, choosing a calm lifestyle, a green lifestyle, and a healthy lifestyle. They use traditional technologies in an innovative way. For example: rehabilitating the cisterns to harvest rainfall water; using that water to restore terrace gardens.