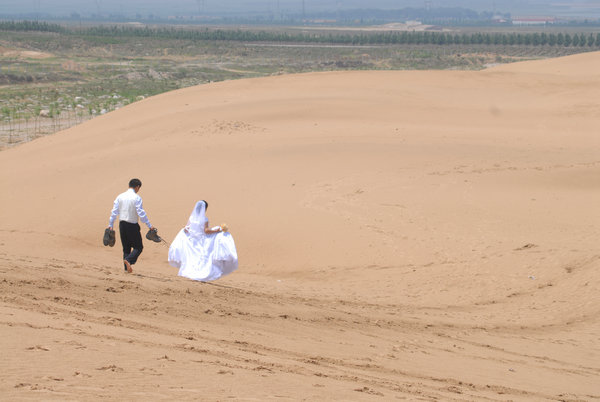 A newlywed couple on a dune of Tianmo in Hebei province.[Photo by Erik Nilsson/ China Daily]
Tianmo is a wasteland where desert film sets are born and buried. Erik Nilsson hunts for abandoned shooting sites in its shifting sands.
We'd planned to visit the desert. We didn't expect to stumble into a live film set - let alone a dust-bowl cradle-turned-graveyard of dead shooting sites.
Turns out, Tianmo is all of the above.
And more.
We encountered men in imperial costumes and Qing Dynasty-era (1644-1911) braided ponytails milling among "ancient ruins" in Tianmo's scorched wasteland.
(I've no idea what they were filming. They were too busy to tell.)
Ironically, actual ruins of fake ruins poke from dunes. That is, abandoned film sets purposefully crafted to look windswept when brand-new have since been actually ground down by the sandblasts of time.
Our kids scuttled up adobe nubs and dove through archways seemingly made shorter as fluid sands engulfed their bases after they were deserted in the desert.
I wondered what may be under our feet.
Tianmo's on-screen celebrity began with the 1994 Romance of the Three Kingdoms TV series.
Its reputation among filmmakers then blasted like a sandstorm.
Over 4,000 episodes from more than 300 TV programs have been at least partly shot in the desert, including the popular Emperor of the Han Dynasty, Drawing Sword and China's Band of Brothers, media reports indicate.
Blockbusters featuring scenes filmed here include Hark Tusi's martial-arts film, Flying Swords of Dragon Gate; Feng Xiaogang's action-drama, A World Without Thieves; and the dark-fantasy Hollywood flick, starring Jet Li and Brendan Fraser, The Mummy: Tomb of the Dragon Emperor.
But most visitors to Tianmo, or the Heavenly Desert, are travelers who come to dune buggy, sand ski and ride camels over the two main sandbanks 90 kilometers from downtown Beijing.
Small armies of modern weekend warriors looking to relax, as well as squads of imperial soldiers acting for cameras, besiege the desert closest to the capital.
Tianmo is saddled in horse country.
These beasts of burden labor to support humans in three forms - as stunt horses for actors, trail horses for tourists and cartoony carousel horses for kids.
That said, we took our children, ages 4 and 5 months, on hourlong rides atop actual ambling equines on a farmers' property on the Kangxi Grassland next door.
We'd originally planned to visit the official park, when a farmer flagged us down on the roadside and insisted the main site was closed for winter.
(It was mid-January.)