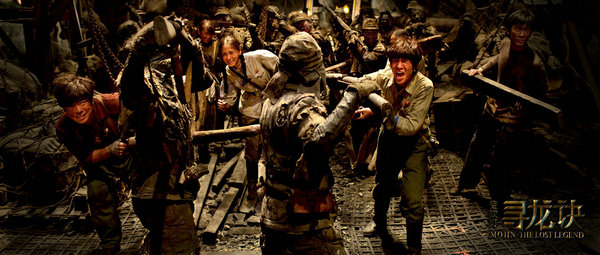 Chinese blockbusters, such as Wolf Totem, Zhong Kui: Snow Girl and the Dark Crystal and Mojin: The Lost Legend (above), attract viewers with high-quality special effects.[Photo provided to China Daily]
Xu says the scenes with potential for special effects in a film must be prepared well in advance of the shooting, such as tailoring movement-capturing digital costumes of the characters and setting up color-keying soundstages. The latter is a popular technique for layering images based on colors.
"When we find that our clients haven't decided if they want special effects or how much of it before they start shooting their films, we really go mad," Xu says of the tight budget and schedule they work with.
And, that happens a lot, he says.
Other than such challenges, local talent also faces foreign competition.
Many world-famous special-effects studios, such as Dexter and Mofac, have tapped into the Chinese mainland's market.
"But cultural differences and language barriers, plus lower production costs, will lure big-budget movies to employ more local talent," Xu says.
Contact the writer at xufan@chinadaily.com.cn