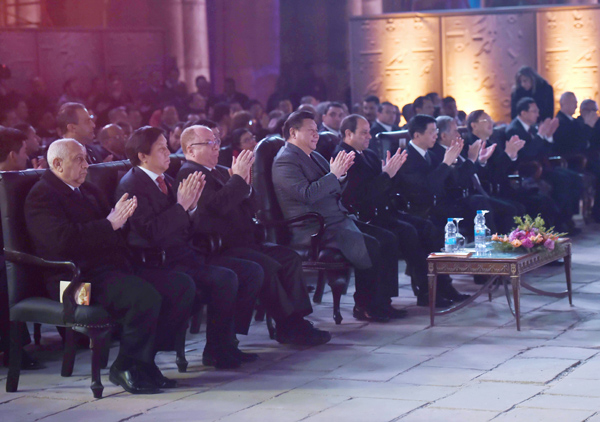 Chinese President Xi Jinping attends the opening ceremony of the 2016 Sino-Egyptian Culture Year on Jan 21 at the Luxor Temple, Egypt. [Photo/Xinhua]
Against a background of giant columns with projected images of pyramids hung dozens of Chinese red lanterns.
Chinese and Egyptian performers highlighted their ancient but unique cultures on stage at a square at the 3,400-year-old Luxor Temple.
They sang in praise of their mother rivers, the Yellow and the Nile. They played the traditional musical instruments of their countries.
The event on Thursday, entitled Two Great Civilizations: Dialogue, marked the opening of the 2016 Sino-Egyptian Culture Year to commemorate the 60th anniversary of their diplomatic ties. Egypt was the first Arab and African country to recognize the People's Republic of China.
The presence of President Xi Jinping, who is visiting the Middle East, and his Egyptian counterpart Abdel Fattah al-Sisi, highlighted the great attention paid to cultural exchanges.
Xi said China and Egypt, as two of the oldest human civilizations, should strengthen their cultural and people-to-people exchanges.
Culture ministers of the two countries, Luo Shugang and Helmy al-Namnam, both emphasized the long history of cultural exchanges between their countries, which dated to more than 2,000 years ago as the Silk Road brought them together.
The cultural linkages have been reinvigorated as Xi works to revive the spirit of the ancient Silk Road with the Belt and Road Initiative, named for the overland Silk Road Economic Belt and 21st Century Maritime Silk Road. After his talks with Xi on Thursday, Sisi agreed to help promote the initiative.
Namnam said the cultural year is a means to intensify the nations' already strong cultural ties.
Luo said more than 100 cultural events covering entertainment, music, movies, exhibitions, literature and book publication will be held throughout the year.