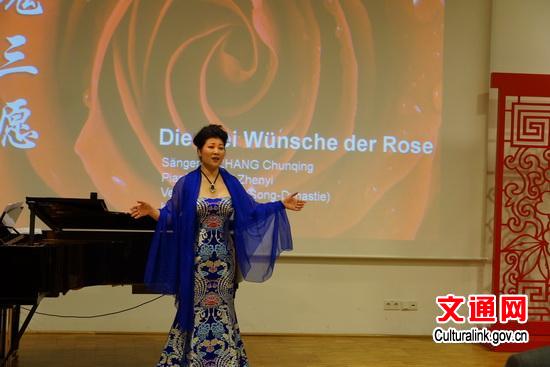 Zhang Chunqing performs at the New Year's concert in Berlin, Germany, Jan 15, 2016. [Photo/Culturalink.gov.cn]
2016 Happy Chinese New Year is being celebrated in 140 countries and 400 cities around the world. China will stage 2,100 activities, among which are temple fairs, lectures, lantern festivals, parades, exhibitions, special performances and intangible cultural heritage displays.
Germany
A New Year's concert was held at the China Cultural Center in Berlin on Jan 15, which launched 2016 Happy Chinese New Year in Germany. It was attended by 200 people. The concert featured music reflecting both Chinese classic and modern poems. Liu Keqing and Zhang Chunqing sang baritone during the performance.