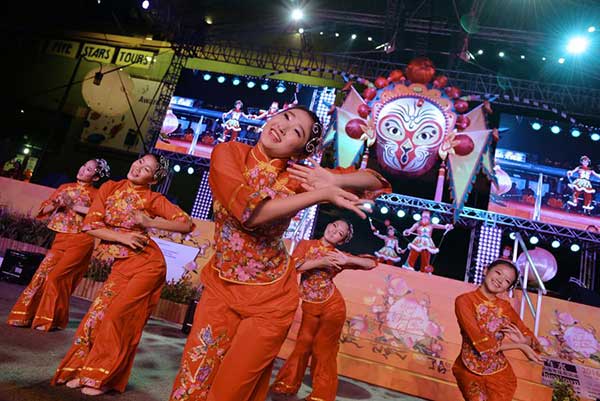 Chinatown in Singapore is lit up with lanterns and performances as the Chinese New Year celebrations kicked off on Saturday.[Photo/Xinhua]
Interactive elements also enhance the visual impact of the dazzling lantern display. Twenty-eight mechanical monkey lanterns present the characteristics of playful monkeys vividly.
In the opening address, grassroots adviser of KA-KS CCC and member of parliament Lily Neo said the Chinese New Year celebrations in Singapore were a reminder of the richness and vibrancy of the Chinese culture.
"It is a festive occasion enjoyed and appreciated not only by the Chinese community but also other racial communities as well as tourists in Singapore," she said.
Kenneth Lim, director of Cultural Precincts, Singapore Tourism Board, notes that Chinese New Year celebrations in Chinatown have become a highly anticipated festival, injecting vibrancy to the precinct and showcasing the rich multicultural heritage of Singapore.
Celebrations at Chinatown will run through March 8.
Visitors can enjoy a series of activities such as an international lion dance competition, a street bazaar and carnival, a New Year walking trail in Chinatown and a countdown party.
The organizers will work with eight Chinese clan associations, religious groups and voluntary welfare organizations to put together the inaugural Harmony Night, a Chinese New Year celebration for 500 residents of Jalan Besar Group Representation Constituency and Potong Pasir Single Member Constituency.