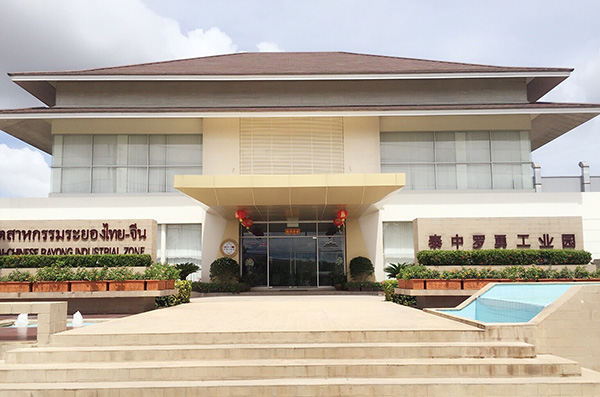 Located 114 kilometers outside of Bangkok, Rayong Industrial Zone houses 66 Chinese companies that make new-energy materials, automobile accessories and electronic gadgets. [Photo provided to China Daily] 
Industrial zone near Bangkok contributes to the local economy by boosting tax coffers and job opportunities
When you talks about Chinatowns, the first thing that comes to your mind is a place with high archways, picturesque shops, red lanterns, and streets full of Chinese people going about their daily lives.
But 114 kilometers outside of Bangkok, the capital of Thailand, lies another Chinatown that is looking to establish China's green credentials in the global marketplace. At the Rayong Industrial Zone, there are no red lanterns or archways on display. Instead what greets visitors are expansive green lawns and sprawling factory buildings of several Chinese companies that make new-energy materials, automobile accessories and electronic gadgets.
Unlike most of the industrial parks in China that are initiated by local governments, the Rayong Industrial Zone has been constructed by Holley Group, a private company from China, and its Thai partner Amata Group. Launched in July 2005, the industrial zone is now the main revenue generator for the Rayong region.
Of the 66 companies that are slated to operate in the Rayong Industrial Zone, more than 40 have already started production. Collectively these firms have invested about $1.5 billion and created more than 10,000 jobs for local people.
The output value of the zone has already reached $4.3 billion, while the amount paid as taxes has topped $70 million.
Wang Licheng, chairman of Holley Group, said that the Rayong Industrial Zone is an ideal foreign platform for Chinese companies planning overseas expansion.
"My understanding of going global is not dumping our products in overseas markets or using other countries' natural resources at very low costs," he said. "The right way is to encourage our manufacturers to invest in other countries, creating employment and tax income for local governments."
Located in Hangzhou, capital city of Zhejiang province, Holley Group established its ammeter factory in Thailand in 2000, one of the first Chinese manufacturers to invest in the country.
It took the firm two years to establish its presence in Thailand's mainstream market. Xu Genluo, president of the Rayong Industrial Zone, who was then in charge of the company's Thailand business, said the troubles and anxieties back then were beyond description.
"We had taken a lot of detours during our overseas exploration. That gave us the idea of being a service provider for Chinese companies, especially private ones, who are also keen on tapping global markets," said Xu.
In 2005, Holley Group signed agreements with Thailand's top industrial estate developer Amata Group to jointly construct the industrial zone.
Only industry leaders and environmentally friendly companies were allowed to be a part of the industrial zone and it was christened as "green industrial Chinatown" by the local people, said Xu.
"I enjoyed working with the Chinese partners and we are planning more such tie-ups in the future," said Vikrom Kromadit, chairman of Amata Group.