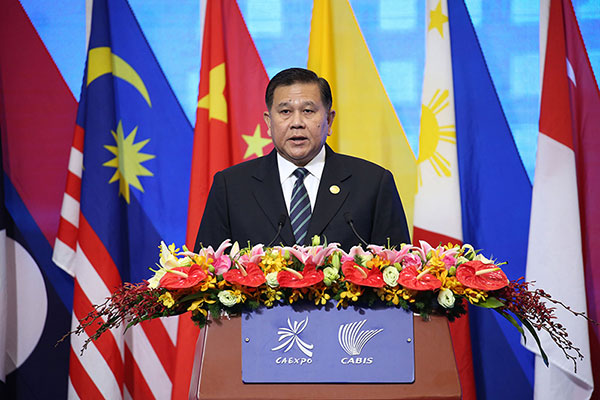 Tanasak Patimapragorn, deputy Prime Minister of Thailand, speaks at the opening ceremony of the 12th China-ASEAN Expo, Sept 18, 2015. [Photo provided to chinadaily.com.cn]
China and Thailand have enjoyed rewarding trade and economic cooperation over the past decade with China the country's biggest trade partner and top tourist source. This year marks the 40th anniversary of the establishment of diplomatic ties and as Country of Honor at the 12th China-ASEAN Expo (CAEXPO); Thailand pulled out all the stops to showcase Thailand's trade and economic potential.
"I am a fan of China, I have visited China over 30 times and will continue come in the future," said Tanasak Patimapragorn, deputy Prime Minister of Thailand, during a round table dialogue with Chinese at CAEXPO.
Communication, transportation and cultural exchanges with the neighboring regions are very important to Thailand. The government has implemented many policies to promote cooperation with overseas companies in railway, expressway and ocean freight sectors.
At the same time Thailand will take a more active role in Greater Mekong river region projects, improve trade efficiency and increase production capacities. According to the deputy PM, China's proposed Belt and Road Initative shares common goals with Thailand's national development plans.
The Thai government hopes investment from China can help develop clean energy, boost innovation and assist in ASEAN economic integration. Marine cooperation is an important force and highlights the stable and healthy development of China-Thailand relations. The "21st Century Maritime Silk Road" will serve as an important platform for China and Thailand to cultivate a more productive relationship.
In order to take China-Thai economic and trade cooperation to a new level, nearly 200 enterprises took part in promotions during the 12th CAEXPO. Thailand will give more incentives to investment in small- and medium-sized enterprises to support the research and innovation for overall growth; investment in the environmental industry to promote sustainable development and investment in border areas to support the process of ASEAN economic integration.
"Chinese enterprises are welcome to invest in Thailand. The Thai government has formulated preferential policies. Intended investors please seize this business opportunity to find fortune in Thailand," said Ajarin Pattanapanchai, deputy secretary general of the Board of Investment of Thailand at the promotion conference on Saturday.
Thailand's commitment to the "21st Century Maritime Silk Road" and willingness to deepen cooperation with China showed confidence in clean energy companies such as China General Nuclear Power Group and China International Group Co Ltd which have expressed interest in entering the Thai energy market.