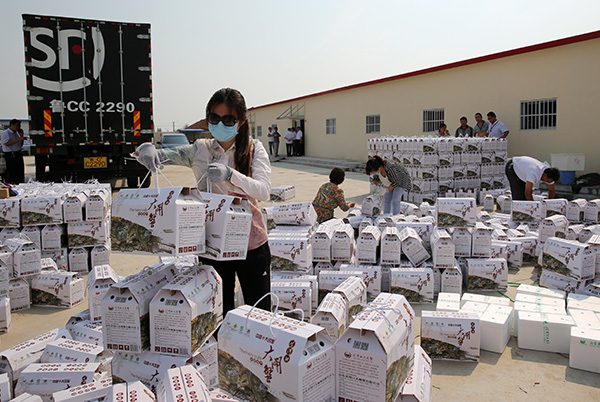 Shun Feng Express (Group) Co Ltd staff pack hairy crabs in Dongying, Shandong province. [Photo provided to China Daily]
Online shoppers were rushing to buy tasty seafood treats for last Sunday's Middle Autumn Festival.
But Wang Liming, an accountant in Beijing, started tucking in early when a delivery of prime Japanese salmon arrived just 24 hours after she ordered it on the shopping site, Tmall.com, which is owned by Alibaba Group Holding Ltd.
"It was still frozen when it arrived. Even the ice cubes were rock hard," Wang, 26, said, adding that her consignment was shipped from a Beijing suburb warehouse.
A big fan of Japanese food, she often eats sashimi in restaurants. But this was the first time she had bought the main ingredients online.
"It tastes better than local products," she said. "More importantly, the salmon (400 grams) online is 63 yuan ($10) cheaper than the average price of 100 yuan in supermarkets."
Wang has joined a growing army of shoppers surfing the Internet for delicacies.
According to a survey in June by Penguin Intelligence, a research agency linked to online giant Tencent Holdings Ltd, seafood was the second most popular fresh produce on the Internet.
About 33 percent of the more than 9,600 shoppers polled said they wanted to buy fish products online, with imported fruit topping the survey on 40 percent.
A search results analysis published by research engine company Baidu Inc in July produced a similar story. In the first six months of last year, seafood and other fish products were the second most popular food items. Even so, because the market is relatively new, there are no detailed sales figures for a sector which is growing rapidly.
"Although they were less popular than fruit, this trend of buying fish, shrimps and crabs online is opening up promising commercial opportunities," Zhang Xiangli, an e-commerce analyst at iResearch Consulting Group in Beijing, said.
To tap into this "growing trend", major online players such as Alibaba and e-commerce company JD.com Inc are launching specialized "supermarket sites" to cater for online seafood shoppers.
"We will focus on expanding our inventories of imported seafood in the next half of this year," Tmall.com reported in a statement. "So far, aquatic products account for 60 percent of all our fresh produce sales."
China's big online companies are also rushing to line up foreign suppliers with the help of overseas government agencies. In June, JD.com launched an online seafood festival with the help of Canada's agriculture department and the country's embassy in Beijing.
The festival was aimed at promoting Canada's seafood and fish products to Chinese consumers. Similar events have been rolled out by Alibaba and government agencies from the United States and New Zealand.
Apart from the Internet heavyweights, traditional companies are starting to move into the online-to-offline, or O2O, seafood business.
"Unlike clothing and shoes, seafood is not a standardized product. It is difficult for consumers to gauge the quality of products online," Wang Peng, who is in charge of O2O business at Wuhan Liang Zhi Long Marketing Management Co Ltd, said.
"Besides, most ordinary Chinese consumers are unfamiliar with imported aquatic products, so online stores are not enough to attract middle-age shoppers. These consumers trust traditional outlets."
In addition to its online platform, lzl98.com, the company has eight traditional Wuhan Liang Zhi Long stores in Wuhan, capital of Hubei province. "People can first buy imported seafood at the stores. If it tastes good, they can then purchase the same products online," Wang said.
"If customers are not satisfied with the products, they can also return the food to our traditional stores."
Ma Si contributed to this story.