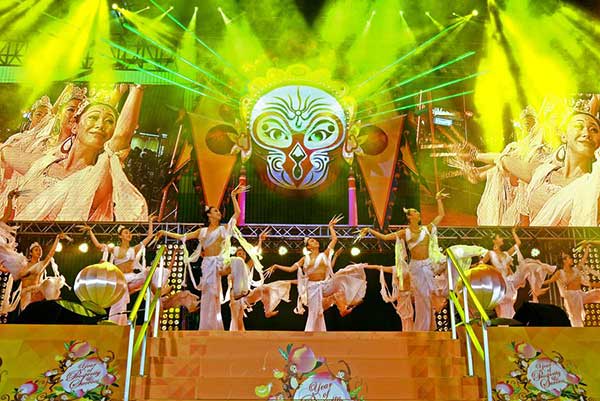 Chinatown in Singapore is lit up with lanterns and performances as the Chinese New Year celebrations kicked off on Saturday.[Photo/Xinhua]
About 2,700 lanterns were lit on Saturday along streets of Singapore's Chinatown, kicking off celebrations for the Year of the Monkey in the heritage district.
The ceremony was held at an outdoor venue in the middle of New Bridge Road and Eu Tong Sen Street. President Tony Tan Keng Yam lit a peach lantern on stage.
After the official launch, artists from leading local, Chinese and Malaysian troupes performed in a reconstruction of the famed Chinese folktale Journey to the West. Daring displays of acrobatics were accompanied by entertaining musical performances and LED light displays.
Themed "Year of Prosperity and Success", this year's Chinese New Year celebrations showcase a magnificent parade of handcrafted lanterns that have transformed the precinct into a heavenly garden filled with playful monkeys and peach trees, conveying joy, longevity and prosperity.
According to the organizers, Kreta Ayer-Kim Seng Citizens' Consultative Committee, these street decorations, in the shape of monkeys, peaches, spring blossoms and gold zodiac coins, were designed by students of Singapore University of Technology and Design, then made by craftsmen from Zigong, a city in China's southwestern Sichuan province.