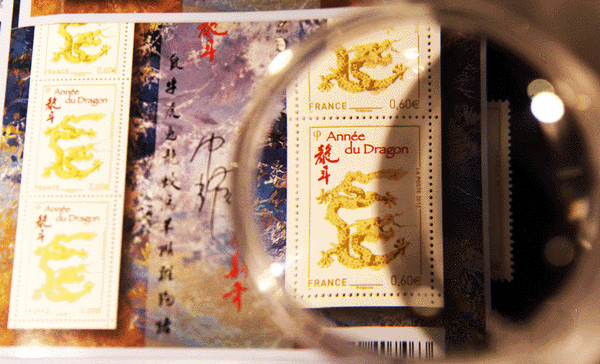 A close up view of stamps designed by Li Yaozhong for the Year of the Dragon. [Photo/Xinhua]
France will issue its stamps for the Year of the Monkey in January 2016, which will be the last set of Chinese zodiac series stamps. La Poste of France has issued eleven series for the Year of the Rooster, Dog, Pig, Mouse, Cow, Tiger, Rabbit, Dragon, Snake, Horse and Sheep since 2003. The stamp for next year will present all 12 animals in one stamp album.
The year 2016 belongs to the category of "fire" in Chinese traditional culture. The monkey is the ninth animal among the other eleven. The Chinese character for monkey has a similar pronunciation with the one for "observe", referring to the intelligence and wit of this animal.
The stamp for 2016 still includes single stamp and sets of five stamps.
This year marks the 10th time for artist Li Yaozhong to design the stamp; previous stamps include those for the Year of the Horse, Dragon and Rabbit. Li highlighted a cute image of a monkey by using contrasting colors, such as grey, yellow and bright red.