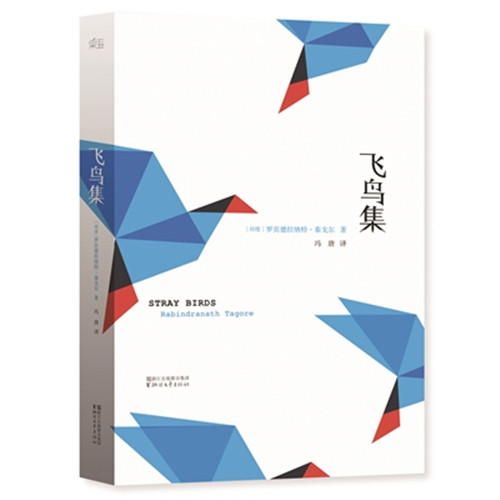 Stray Birds translated by Feng Tang. [File photo]
A new Chinese translation of Indian Nobel laureate Rabindranath Tagore's poetry has been pulled off the shelves in China, the publisher said on Monday.
Zhejiang Literature and Arts Press issued a statement on its micro blog that said, "Due to the great controversy surrounding Feng Tang's translation of Stray Birds, we have decided to recall this volume from all bookstores and online platforms.
"We will make further decisions after consulting a team of experts who will provide a detailed assessment of the Chinese version."
Feng issued a terse response, saying, "The history of literature will be the judge."
The translation triggered a wave of criticism and condemnation from lovers of Tagore's works and translation buffs, who accused Feng of "infusing the original poems with hormonal flavor" and "mixing words of disparate styles". They also accused Feng of staging "a terrorist strike against a literary titan". Feng's rendition substituted words such as "vastness" and "hospitable" with sexually suggestive terms like "crotch" and "horny".
Deccan Chronicle, an Indian newspaper, carried an article on Dec 22 headlined "Tagore's works get vulgar twist in China". It quoted from an earlier China Daily column.
Zheng Zhong, head of the publishing house, said Chinese youngsters could be led astray by word choices that are "over the line". He said there is no plan to use the negative publicity to sell the book.
"But Feng has very solid literary talents," he added. "Several of his translated pieces are very terse and poetic-better than the classic version."
Some of Feng's friends, including sexologist Li Yinhe, have come to his defense. "It is the best translation (I've ever read)," Li said.
Tang Shan, a Beijing book reviewer, wrote that Tagore had been misunderstood in China until Feng's translation appeared. He said Tagore wrote his poetry in the Bengali language, which has "dense rhymes". The English version is a recreation rather than a translation, he said.
Feng is not known to understand Bengali, but he had previously expressed his dissatisfaction with the English version. That version was written by Tagore himself, according to most sources.
One online commentary that received the most praise said, "The translation was terrible and I won't buy the book anyway, but I hope there was no government pressure behind the decision to pull it off the shelves."