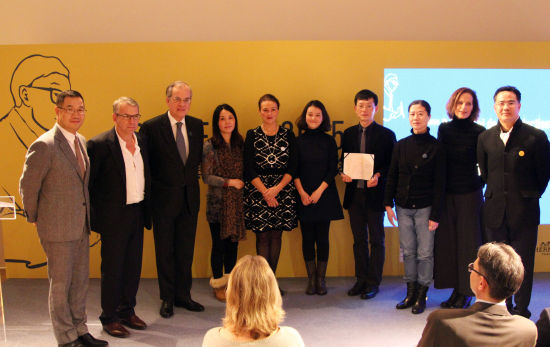 The awarding ceremony of the 7th Fu Lei Translation and Publishing Awards was held in Shanghai on Saturday. [Photo/French embassy]
Three Chinese works were named winners of the 7th Fu Lei Translation and Publishing Awards at Shanghai's Hermes Maison on Saturday.
Le Liseur du 6h 27 (Reader at 6:27) by Zhou Xiaoshan was honored for fiction, la "Description" de J.-B. Du Halde, jésuite, 1735 (The Proof of China: The Description of J-B. Du Halde, Jesuite, 1735) by Xu Minglong won for social science and La querelle de l'art contemporain (The Quarrel of Contemporary Art) translated by Wang Minnan was recognized as best new translation.
To promote the Fu Lei awards, contemporary French writers Marie Nimier and Philippe Torreton were in Shanghai for the event. Nimier said translators are like ferrymen, without whose efforts cultures could not meet each other.
As reported by the Qianjiang Evening News, Chinese has become the third largest target language in terms of exporting French literature's foreign copyright. Aside from French classics by authors such as Montesquieu and Alexandre Dumas, contemporary literature has become increasingly popular in China.
It was the first time the ceremony was held in Shanghai, a city where Fu Lei used to spend a lot of time living and working. The awards were established in Fu's name in 2009. As the most renowned translator in China, Fu has translated masterpieces from authors such as Honoré de Balzac, Voltaire and Romain Rolland.
Related:
Top ten finalists for Fu Lei translation award named