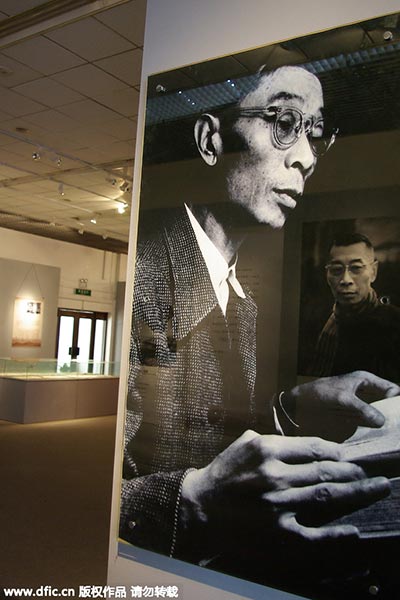 To commemorate the 100th birthday of Fu Lei, an exhibition was held in Shanghai on May 4, 2008. [Photo/IC]
Ten literary works translated from French to Chinese have been chosen by the Fu Lei Translation and Publishing Award jury and will compete for awards to be revealed in Shanghai's Hermes Maison on November 28.
Selected from 40 works recommended by Chinese publishing houses, the ten comprise five volumes of fiction and five of social science. The two prizes in the final will go to entries from each category.
"The chosen books are the ones that won the majority of votes - there are books that one or two of the jury members liked very much, but they were eventually left behind to be fair," said Caroline Puel, a jury member and 1997 winner of the Albert Londres Prize, the highest journalism award in France.
The five fictions are De l'Angelus de l'aube à l'Angelus du soir (From Morning Angelus to Evening Angelus) translated by Liu Nanqi; La Mécanique du Cœur (The Boy with the Cuckoo Clock Heart) translated by Yu Ning; Le Liseur du 6h 27 (Reader at 6:27) translated by Zhou Xiaoshan; Un vrai ro-man: Mémoire (Memory) translated by Duan Huimin and La Vérité sur l'Affaire Harry Queber (The Truth About the Quebert Affair) translated by Chen Rui and Yang Tong.
The five social science books are Le jardin imparfait: La pensée humaniste en France (Imperfect Garden) translated by Zhou Mang; La querelle de l'art contemporain (The Quarrel of Contemporary Art) translated by Wang Minnan; La preuve par la Chine: la "Description" de J.-B. Du Halde, jésuite, 1735 (The Proof of China: The Description of J-B. Du Halde, Jesuite, 1735) translated by Xu Minglong; Un cœur intelligent (An Intelligent Heart) translated by Zhang Xiaoming and Les travailleurs chinois en France dans la Première Guerre mondiale (WWI Chinese Labor in France) translated by Mo Xuqiang.
The Fu Lei Translation Award was established by the French Embassy in 2009 to promote French literature in China. Fu Lei (1908-1966) was a renowned translator in China, translating works from famous French authors, including Honoré de Balzac, Voltaire and Romain Rolland.
Related:
Colombo Int'l Book Fair to be held focusing on 'China Publishing'