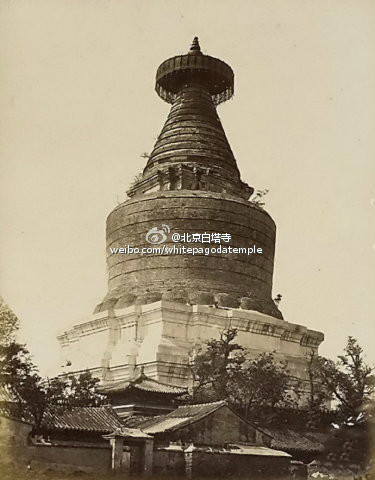 A shot of the White Dagoba Temple in the year 1860. [Photo/Sina Weibo]
The White Dagoba Temple in Beijing opens again on Dec 6 after undergoing two years and seven months' repair. Located in Beihai Park, the temple was also named "Miaoying Temple".
Yang Shuguang, director of the management office of the temple, noted that the temple has been repaired eight times since the year 1949. And the latest repair started from 2010, because the plaster of the temple was hollowing, had cracked and even fallen off, which threatened the safety of the temple and the residents nearby.
According to Yang, the repair follows the traditional process of using similar material to the original structure, and aims to restore the temple to how it once was. One of the most important things is to make new plaster and shovel off the old plaster.
During the repair, the temple dried out naturally in the open air for one year, and was then covered with new plaster. The rust on the seven metal straps that cover the temple was also cleaned thoroughly and the lightning protection system was changed as well.
Yang mentioned that there was a temple named "Yong'an Temple" in the location of the White Dagoba, which was destroyed in a war. Kublai Khan (Hu Bilie), the founder of the Yuan Dynasty (1271-1368) chose to build a new temple at the very place. The new temple was the White Dagoba, which later became the center for royals of the Yuan dynasty to pray for blessings.
A monk from Qinghai province came to visit the temple once he heard that it had reopened. "This is an old temple and keeps the old figures of Buddha. It's much better to see it once than to hear about it a hundred times," he said.
The temple also has new exhibitions on the city culture of the Yuan Dynasty and choice Tang Ka artworks.