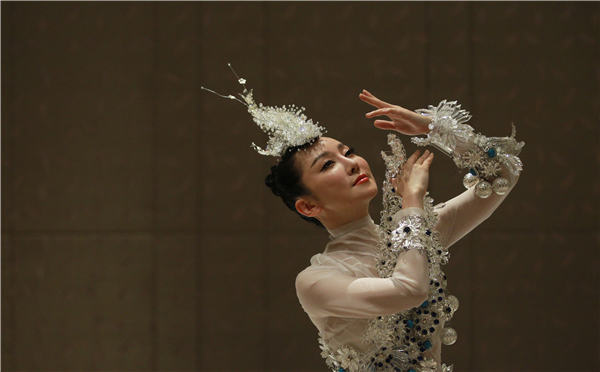 Pop singer Sa Dingding continues her experiment in blending multicultural elements in her latest album, The Butterfly Dream. Photos by Zou Hong/China Daily
Sa Dingding is among the few Chinese pop stars who have grabbed the attention of Western audiences.
Her 2007 album, Alive, on which Sa performs in Mandarin, Tibetan, Sanskrit and a self-created language, won her the BBC Radio 3 Awards for World Music for the Asia-Pacific region, a first for a Chinese pop singer-songwriter. The same year, she performed at the Royal Albert Hall in London.
And her next two albums - Harmony and The Coming Ones - continued to win her global recognition, boosted by performances at music festivals like WOMAD Festival and Harrogate International Festivals in the United Kingdom.
For the audiences in her homeland, however, she is still a mystery.
The singer's latest album, titled The Butterfly Dream, aims to change that by reintroducing her to Chinese audiences.
Based on a famous anecdote by the ancient Chinese philosopher Zhuang Zi, the founder of Taoism, the album was released on Nov 20 and features 10 songs that express Sa's views about the thin line between dreams and reality.
Zhuang Zi dreamed about being a butterfly, and upon waking, he wondered if he was a man dreaming he was a butterfly or if he was a butterfly dreaming that he was a man.
Sa says she lives on and off the stage, as if between illusion and reality.
"I enjoy the glamour onstage, but without the limelight, I am just an ordinary woman," says the 32-year-old, who will start a national tour early next year. "I am aware of the fame I got abroad and I also know that my music is not mainstream in the domestic market. But I believe audiences will have a different feeling about this album."
Continuing her style of blending cultural elements, she invited Karsh Kale, an Indian-American musician who has written songs for Sting and Norah Jones, to be the producer.