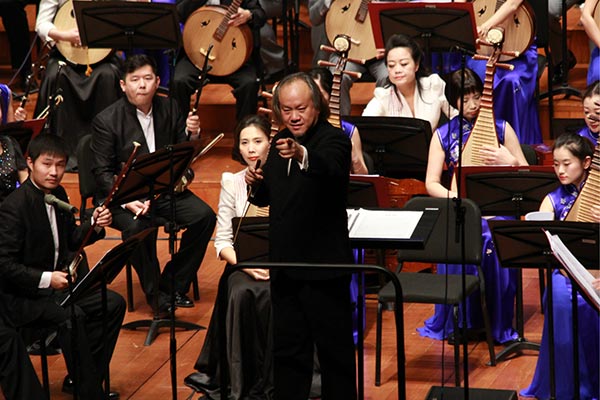 Conductor Xu Zhijun. [Photo provided to China Daily]
The Chinese folk orchestra concert,
Dwelling in the Fuchun Mountains
, which was staged at the National Center for the Performing Arts on Nov 21, by China National Orchestra and Zhejiang National Orchestra, will now be staged in Shanxi province.
The show will be staged in Taiyuan on Nov 27 in collaboration with the Shanxi National Orchestra and the Zhejiang National Orchestra.
Composed by Chinese musician Liu Yuan, the orchestral piece is based on the 600-year-old landscape painting of the same title, arguably the greatest work by Yuan Dynasty artist Huang Gongwang (1269-1354).
A professor of the Central Conservatory of Music, Liu conducted research on the artist by traveling to the Fuchun Mountains, southwest of Hangzhou, in Zhejiang province.
This was the place where Huang spent the last years of his life and created the painting at the age of 82.
Composer Jiang Ying, who rose to fame for her award-winning composition Silk Road, in 2008, also contributed to the musical work, which portrays the scenery of the Fuchun Mountains and the emotions of the painter.
Related: