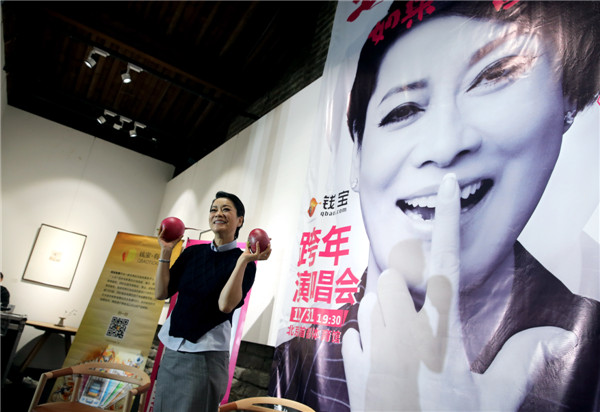 Singer Mao Amin displays vegetables harvested in her backyard, saying that farming is one of her biggest hobbies. [Photo by Jiang Dong/China Daily]
Singer Mao Amin was in Beijing to promote her upcoming concert, with her radish.
"Farming is one of my biggest hobbies. I plant vegetables in my backyard and I want to share them with all of you," Mao, 52, told her audience at the Imperial Granary theater during a media conference last week, when she appeared with vegetables in hand.
The concert will be staged at the Capital Indoor Stadium on Dec 31.
The pop singer rose to fame after performing her song Missing at CCTV's Spring Festival Gala in 1988.
But making her own choices gives her the most joy, she says.
"I am in the most comfortable place in my life (right now)."
The concert, she says, will be a "reunion" for her and her fans. She will perform hit numbers from 26 albums, taking the audience down memory lane.
Since the singer once led fashion trends with her appearances on TV, she will put on retro clothing that captures the romance and glamour of the 1970s, such as a suit jacket with thick shoulder pads and a straight long-sleeve gown.
Five years ago, Mao held a sold-out concert on New Year's Eve in Beijing, which was her first solo concert in 30 years. Last year, she gave another show in Nanjing in East China's Jiangsu province, which was also a big draw.
"When I performed onstage, the audiences shouted my name. It was an unbelievable experience," Mao says.
"I'm not looking for attention, for more success or money. I'm just singing songs because I love them."
When she prepared for the concert, she made a list, including the theme song of the popular soap opera, Ke Wang (Aspirations), China's first long-running TV series broadcast in 1990, which had an audience of about 550 million, and Green Leaf and the Root, which won her top honors at the Yugoslavian International Musical Eisteddfod in 1987.
The song also paved the way for more Chinese pop singers to participate in international competitions.
Born in Shanghai in a working-class family, Mao was interested in singing since childhood and she learned different songs, from pop to Peking Opera, by listening to radio.
Mao was discovered by renowned songwriter Gu Jianfen when she was 20 and working at a Shanghai chemical plant. She became a solo singer in a song-and-dance troupe of the People's Liberation Army in Nanjing three years later.