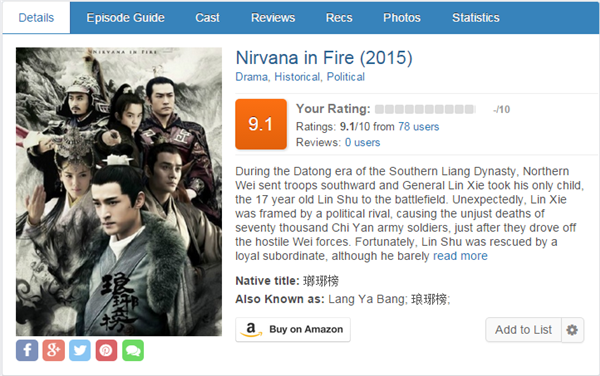 Nirvana in Fire was rated 9.1 out of 10, tying the first place on mydramalist.com. [File photo]
"The South Korean dramas have set a trend for popular drama, where the looks of the characters was emphasized and the plot of the drama became less important."
As to the comparison made by some American audiences, that Nirvana in Fire is a counterpart of the French classic The Count of Monte Cristo, Wang told China Daily Website that bridging the cultural divide was also part of what made it sell.
"Despite being a historical drama, the story doesn't require much historical knowledge. In other words, the revenge story could take place in any period of time in Chinese history. Basically it's a contemporary idol drama in fancy ancient costumes," Wang said.
Currently, the drama has been aired in South Korea and was recommended by the convention board of this year's Discop Africa to countries on the continent. Due to its popularity on Youtube, it will also be dubbed in English soon.
"Some episodes were dubbed in English by zealous fans overseas, we have watched them and think it's cool. Our company has been trying to contact the dubbers," Wang said.
Nirvana in Fire is the most popular drama in China right now. By weaving two storylines — one a betrayed general's revenge and the other about princes fighting for the throne, the drama presents a well-told story of strategist Mei Changsu.