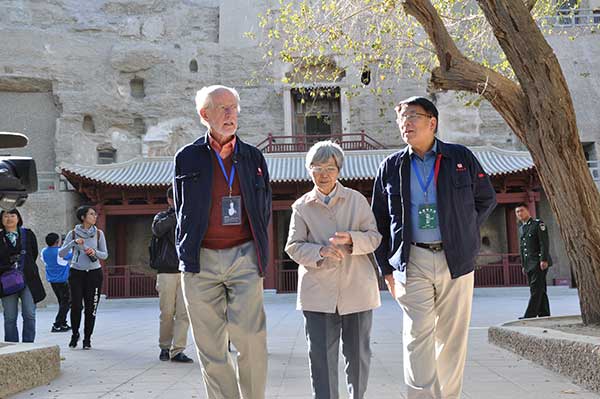 Neville Agnew has developed a friendship with his Chinese colleague Fan Jinshi (center).[Photo by Liu Xiangrui/China Daily]
He has also faced challenges while working in Dunhuang, but of a technical nature, he says.
The stories about him and Fan Jinshi, a former director of the Dunhuang Academy, are known to many people from both organizations.
"We had (our) differences and we even quarreled with each other a lot," Agnew says, smiling.
"But we were honest with each other and knew that we wanted the same good results. Over time, we have developed strong mutual trust and (have) become very good friends."
Years of collaboration gave Chinese and US heritage preservationists a lot to be happy about. The project on Cave 85 also influenced other parts of China.
The Dunhuang Academy and Getty Conservation Institute participated in drafting the Principles for the Conservation of Heritage Sites in China, a set of national guidelines.
Besides being involved with protection of relics in China, Agnew has made efforts to promote the Mogao Grottoes and the Silk Road in the Western world.
He has written or compiled publications, arousing strong interest in the Mogao Grottoes both among museum audiences and professional researchers in the US and Europe. He is also a curator for a major exhibition on the Dunhuang grottoes to be held at the Getty Museum in Los Angeles in May 2016.
The exhibition, which celebrates more than 25 years of collaboration between Agnew's institute and the Dunhuang Academy, is the first large-scale display on the Mogao Grottoes in North America. It also includes replicas of three of the Buddhist cave temples that survive on-site today.
As one of the earliest foreign experts in the field in China, Agnew has worked on the Yungang Grottoes in Shanxi province and the Chengde Imperial Summer Resort in Hebei province.
In 2006, he received the Friendship Award, a top honor given by the central government to foreigners for their contribution to China's development.
Agnew says working in China has been rewarding for him personally, too.
"I have gained deeper understanding of the Chinese people and their culture."
Agnew, who holds a PhD in chemistry, taught the subject at universities in Africa and Australia earlier. Interested in nature and culture, he later became involved in museum work in Queensland, Australia.